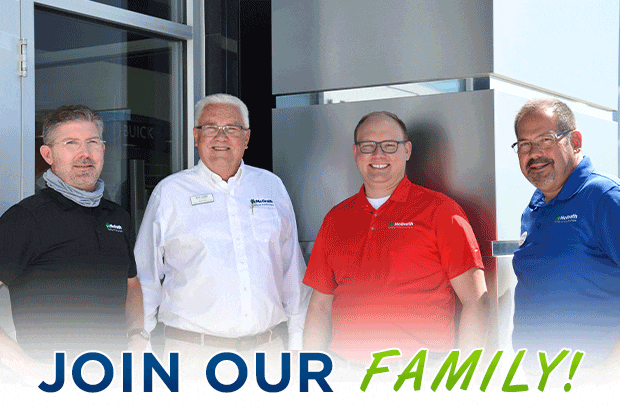 Did you know... Automotive Sales is one of the nation's highest paying careers?
McGrath Auto is growing again! We are seeking motivated, competitive, and enthusiastic individuals for all of locations. Our aggressive advertising, and outstanding reputation continues to produce more qualified buyers then our sales staff can handle!
No Experience Needed! We will Train You!
Our professional training process will teach you the proper way to sell and give you all the tools necessary to be successful in this high paying and exciting career right from the start!
Here's your chance to be part of the fastest growing and most successful auto dealership group in the Midwest! McGrath Auto Group is looking for salespeople to keep up with unprecedented growth. No auto sales experience? No problem! We offer a fantastic learn-while-you-earn program.
We offer a top-notch, full benefits package including vacation, health and dental, and vision insurance, 401k savings, direct deposit payroll, and the opportunity to advance, all in a safe and fun work environment.
Are you unhappy in your current career? Looking for a chance to make good money? Looking for the right chance to use your special talents? We're looking for you!
Applicant must be energetic, positive & assertive
Must be a team player and willing to learn
Have a need for $60,000 - $120,000 per year
$30,000 base with unlimited commission and bonuses
Be available to work ONLY 5 days a week
Have a great attitude with a high-energy personality with excellent communication skills
Have a drive for advancement in the Automotive Industry
Have professional personal appearance
Have strong customer service and organizational skills
Make Great Money, Friends and Clients While Having a lot of Fun Doing It
Please dress professionally for your interview!
Multiple positions available! No previous auto sales experience is needed. Apply now to schedule your interview. If you are unable to schedule an interview we will be sure to see ALL walk-in applicants. Applicants from construction, restaurant, retail, sales, customer service, hospitality, and banking industries are strongly encouraged to apply! Equal Opportunity Employer. Applicants must be 18 years or older and be authorized to work in the US. Applicants must have a valid driver's license.
---
Apply Now with the McGrath Family of Dealerships!
To inquire about available positions and additional information, contact Jaymie McGrath by calling (319) 393-6300 or by submitting the application linked below. All correspondence held completely confidential.
Apply Now