Serving the Midwest with Pride & Commitment
For 70 years now, the McGrath Family of Dealerships has been proudly providing the Cedar Rapids Corridor region a friendly place to buy a new or used vehicle from people who care about their experience. From sales to service, no one works harder to provide you exactly what you should expect from a car dealer and more!
"We're in the customer service business first, the car business second."

- H.B. McGrath
Our goal is to offer our customers the highest quality vehicles at unmatched prices, but the car business isn't just about the product, it's about the people. Purchasing a car can be overwhelming and our team understands that. That's why we guide you through our simplified process and make every effort to ensure you get the vehicle you want at a price that works for you!
If we aren't making our customers happy, we aren't in business. It's as simple as that, and we intend to deliver on the promise: Get More with McGrath!
Hours
Monday

7:00am - 8:00pm

Tuesday

7:00am - 6:00pm

Wednesday

7:00am - 6:00pm

Thursday

7:00am - 8:00pm

Friday

7:00am - 6:00pm

Saturday

7:30am - 5:00pm

Sunday

Closed
Directions to Our Dealerships
Get Directions

A Midwest Tradition
The McGrath family is woven into the fabric of Cedar Rapids and is a multi-generation family business that began with H.B. McGrath. Because of his tenacity and "Sky's the Limit" mindset, H.B. McGrath was selected by General Motors to open a Buick store in Eau Claire, Wisconsin in 1952. Learn more about our history.
McGrath History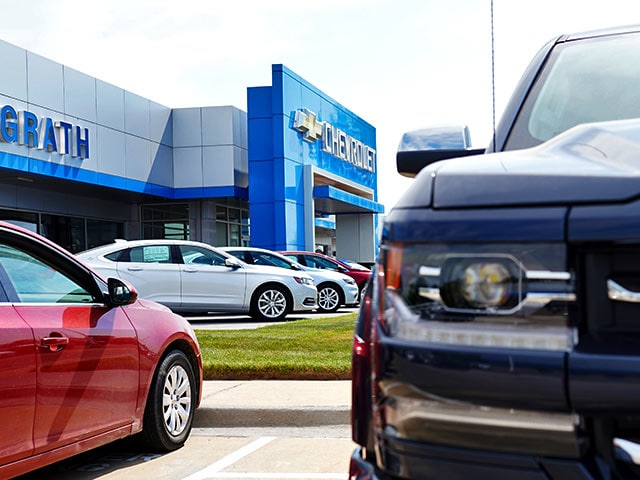 Continuing a Legacy of Integrity
Today, with several additional acquisitions of automotive dealership franchises, a fourth generation of the McGrath family is following in their predecessors' footsteps. By joining their fathers, uncles and grandfathers, Lindsay McGrath-Vasquez, Gavin McGrath, Jaymie McGrath, Murphy McGrath, and Griffin McGrath continue the legacy and traditions started back in 1952 by H.B. McGrath and are committed to serving the Corridor area.

McGrath Cares Program
Commitment to Our Community
It's what binds us together, and doing our very best to support friends and neighbors in this community is a driving force behind everything we do. It's not just about providing incredible automotive services. It's about pitching in and helping out the folks who need it most. Whether it be through organization sponsorship, event involvement or fund-raising assistance, we're strive to give back as much as we can. Learn more about the McGrath Cares program!
McGrath Cares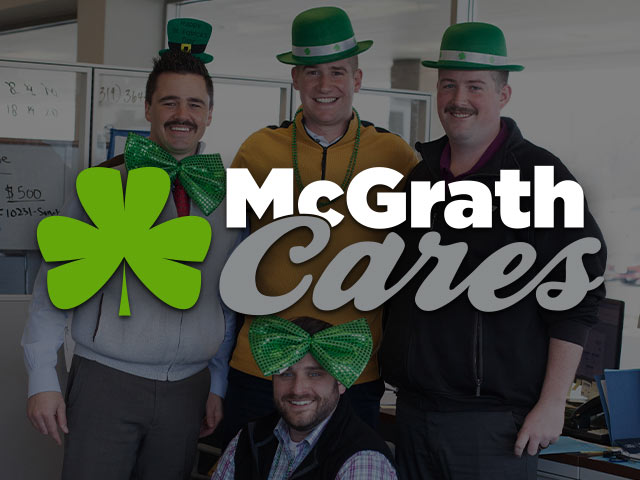 Our Mission
Do the Right Thing.
Exceed Expectations.
Make a Difference.
These statements form the basis of how we conduct our daily business. Our mission enables us to develop long-term relationships with our constituency.
Our Values
These words represent what we stand for and they reflect what we consider to be important to our business, our employees, and our customers!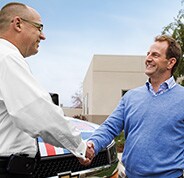 Do the Right Thing
Having an honest approach to the job is a primary feature of this value. It is also important that employees always show the best of intentions and integrity. Most importantly, being fair-not only with customers-but with each of their interactions to ensure a happy workplace.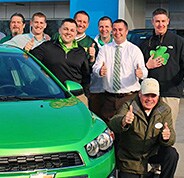 Be Humbly Confident
This value is best represented by implementing a "Team First" mentality; always working toward the common goal of the group. It is also important that team members show extreme ownership over their tasks and are always in a space to be coachable-working toward the benefit of the whole while being at their best when their best is needed.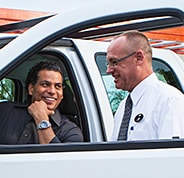 Relentless Pursuit of Growth
Team members who demonstrate this core value will be hungry to make a positive difference in people's lives while also remaining focused on a commitment to their own personal development and striving to grow personally and professionally. Also, this core value is typified by a "no excuses" creed with a comfortability in being uncomfortable.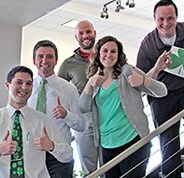 Have Fun
Life is too short to not like what you do! Having fun is about enjoying the journey! You should also have a contagious energy and positive attitude-greeting each new day as an opportunity to be that little ray of sunshine.
Our Vision

To Be the Company of Choice for Employees, Customers, Vendors and Manufacturers.
Our vision flows from our values AND the values we live by form the basis for our vision. Vision is the ability to look beyond today, beyond the obstacles, beyond the majority opinion and imagine the greater picture. In other words, a vision allows us to see what is not yet reality.
What Our Customers Have to Say!

Ronald Tyson III
McGrath Buick GMC Cadillac
As a first-time car buyer, I must say I was a little intimidated by the prospect of purchasing my first vehicle. All of that went away when I came to McGrath. My salesman, Sean, was extremely knowledgeable of my VW Golf, and answered all the questions I had and even some that I didn't! Not only that, but even when I took my vehicle in to be undercoated, I was greeted with a smile from the guys in the shop and anyone else who saw me in the lot. Something as simple as a smile is often too hard to come by these days, but the people at McGrath truly understand the value of their customers, and I am proud to say that I am one of them. Thank you guys!
Ashlee Grimm
Coralville Used Car Superstore
We went in looking for a new truck and they brought one from a different location to a location closer to us which worked out great so we didn't have to travel so far to see it. Once we got there they were very nice and worked with us on every single detail and made sure we understood everything we were getting in the package. Thanks to everyone at the Coralville location especially Brad Knudson who worked with us from beginning to end!
Thom Bollinger
McGrath Chevyland
I brought my Ford Mustang convertible to Chevyland's detail shop to remove some tar and paint over-spray and for a complete detailing. Jeremy quoted me what I thought was a fair price. I dropped the car of on Thursday morning. When I picked it up that night, it looked better than it did when I bought it! All of the tar and paint was removed, the car was waxed to a mirror finish and all of the exterior, interior and engine compartment had been dressed. They even polished the tail pipes. Highly recommend!
Chad Bisinger
McGrath Chevyland
I will be back when it's time for my next car purchase. Well, that sentence was how I ended my last review June of 2012. Over the weekend, my wife and I took delivery of our fourth new Chevy from Pat McGrath Chevyland. We really shopped around this time and we drove seven different makes of SUV's with 3rd row seating. When it came time to decide, buying from Mark Thomas and Andy Burns was a big factor in our decision. As it turns out, Chevy threw a sale while they were both on vacation so we got to work with some of the other great staff. Thanks to Billy, Ben, Ben, Bailey and especially Derek for taking care of us. We highly recommend Pat McGrath Chevyland. Great deals, excellent people and good service.
When it comes to handling your automotive needs, the friendly and transparent sales and service team offers you the experience you've been looking for! Contact us now to begin working with our professional advisors!
Contact Us
Greg Mein
McGrath Chrysler Jeep Dodge Ram
I knew what I was looking for when I began my research on the internet, basically a newer version of the vehicle I already had. TrueCar was a great website to get right down to the nitty gritty when it came to finding what I wanted at the best price. McGrath had a vehicle in stock that closely matched my specs so I printed out the sheet and headed down there. I tried the car out and decided it was just what I needed and it even included a few gee whiz extras I didn't necessarily expect to get at the price I was willing to pay. I didn't get much from my trade in, however, with the savings off the sticker price I felt I made out pretty good and the experience with the staff and salesman, John Christensen, was extremely pleasant and enjoyable!
Greg Ludwig
McGrath Chrysler Jeep Dodge Ram
Jeff Moss was awesome to work with. He answered every question I had. I originally came to Jeff to trade in my Dodge Nitro for a bigger SUV but after working with Jeff he learned I really wanted a truck and a short time later I was driving away in a 2011 Chevy Silverado. I would definitely recommend Jeff to anyone that is looking for a vehicle. Thanks again Jeff!
Austin King
Marion Used Car Superstore
Got a new car from Dario, an excellent salesman. He took the time to find cars I wanted within my price range and was courteous, friendly, and honest throughout the experience. Gave me his honest opinions and didn't try selling me a car that wasn't for me. If you get a car from this dealership, I recommend buying through Dario.