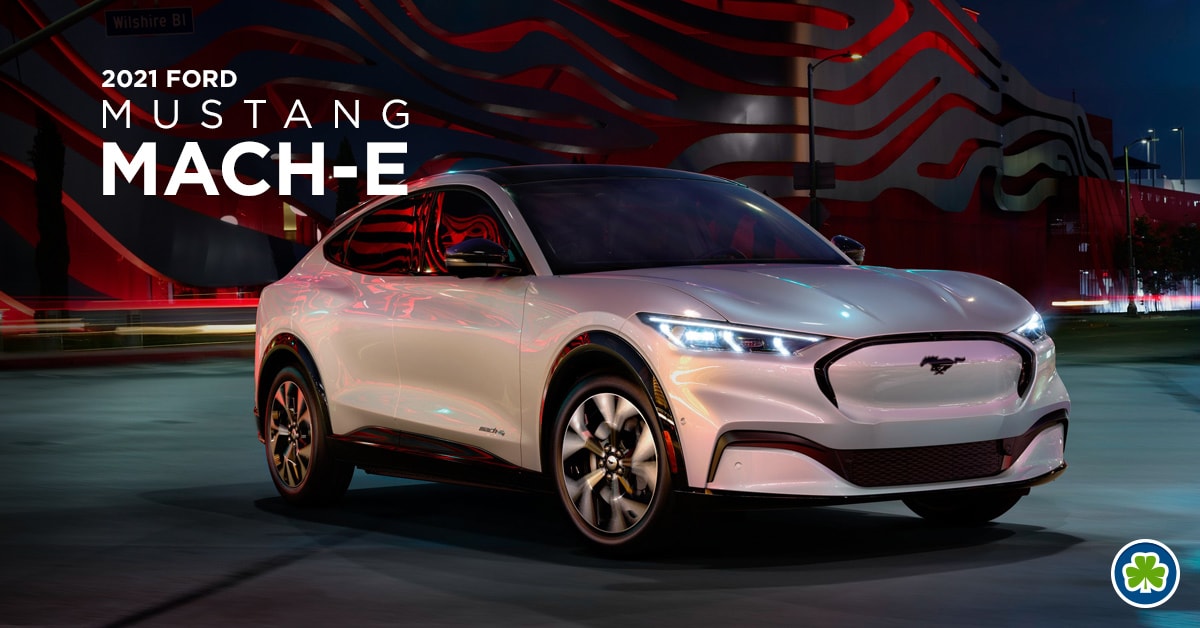 Introducing the 2021 Ford Mustang Mach-E
Modern Improvements
The Ford Mustang Mach-E build off of the Mustang's long and distinguished history with modern performance that will surprise car enthusiasts. Reservations for the Mach-E are now open! Customize yours today on Ford.com and select McGrath Ford as your delivery dealership. Leading with modern style and the muscular shape of previous generations, The 2021 Mach-E brings the Mustang brand into the future.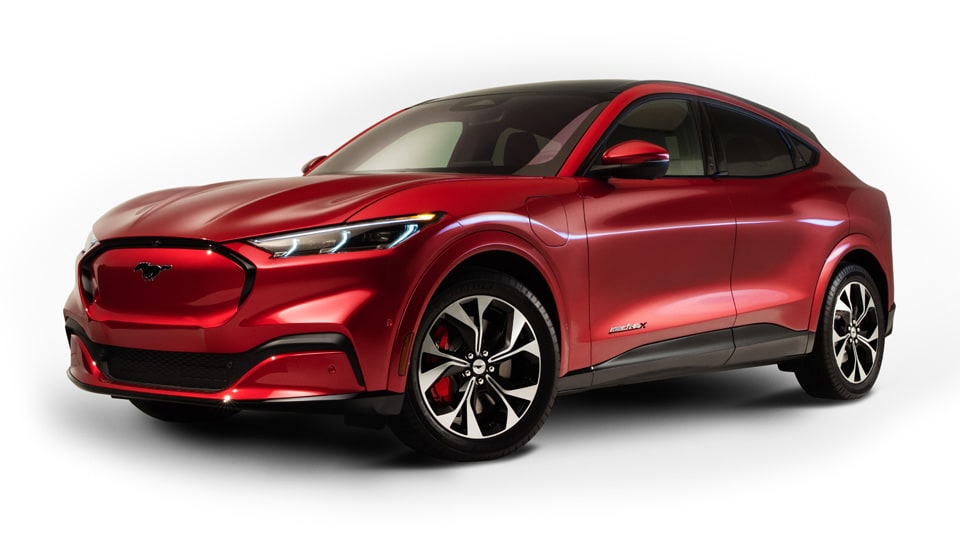 Mach-E Reservations Available!
Order Yours Today!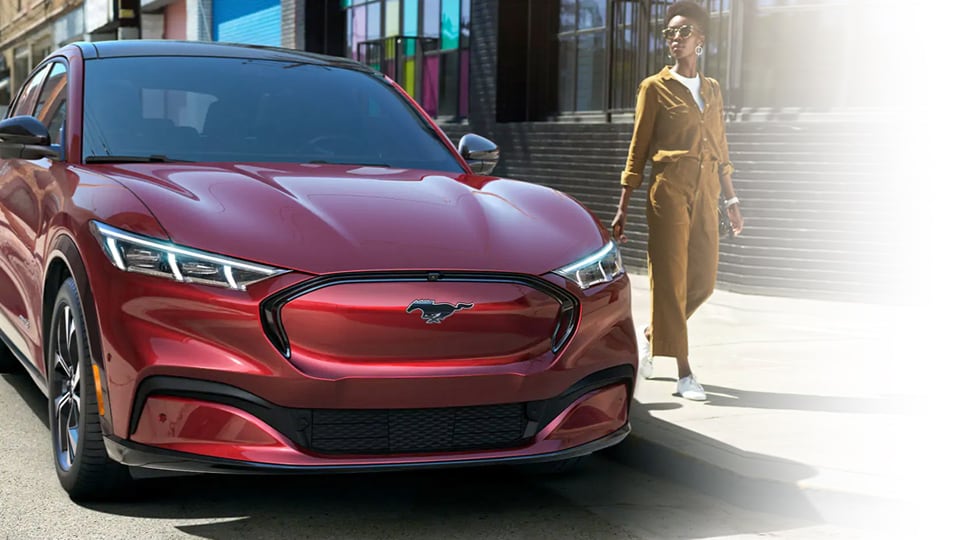 Reservations are Open!
Reserve your Mach-E online with these simple steps.
Go to Ford.com
Build and price out your 2021 Ford Mach-E
Select McGrath Ford as your delivery dealership
We will contact you when your brand-new SUV arrives
Order Today!
Exterior

Longer and Leaner
The newly designed 2021 Ford Mustang Mach-E now features a much more modern and muscular design. There were very drastic design changes made to both the front hood and grill as well as changes to the overall shape of the SUV, making it longer and slightly wider.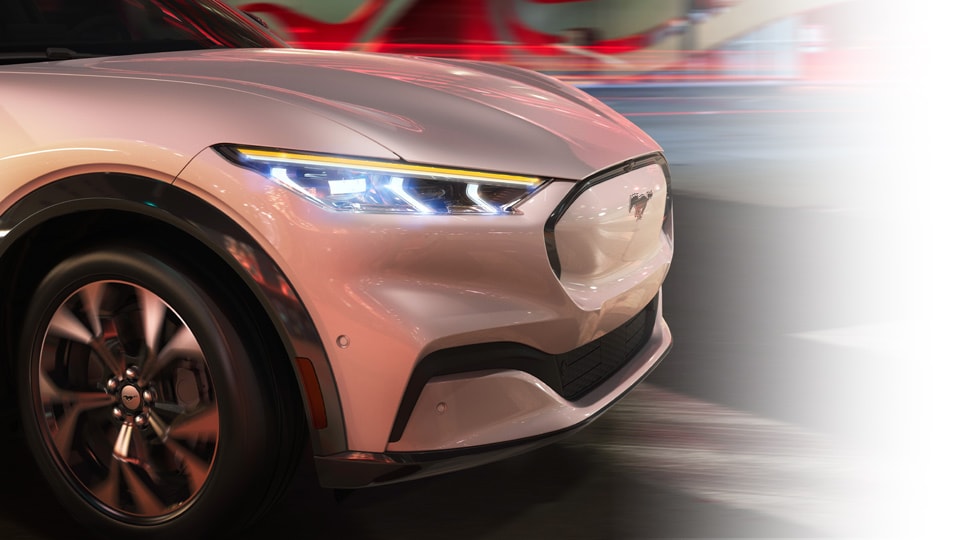 Bold Design
The most drastic design change is seen on the grill. Because the Mach-E doesn't need as much air flow, the grill is able to be flat across which improves aerodynamics and fuel efficiency while also giving off a bold, modern style.
Signature Lighting
The signature three taillights are taken from the newest Mustang generation and are given an added touch of style. Bold style gives the Mach-E a personality all of its own,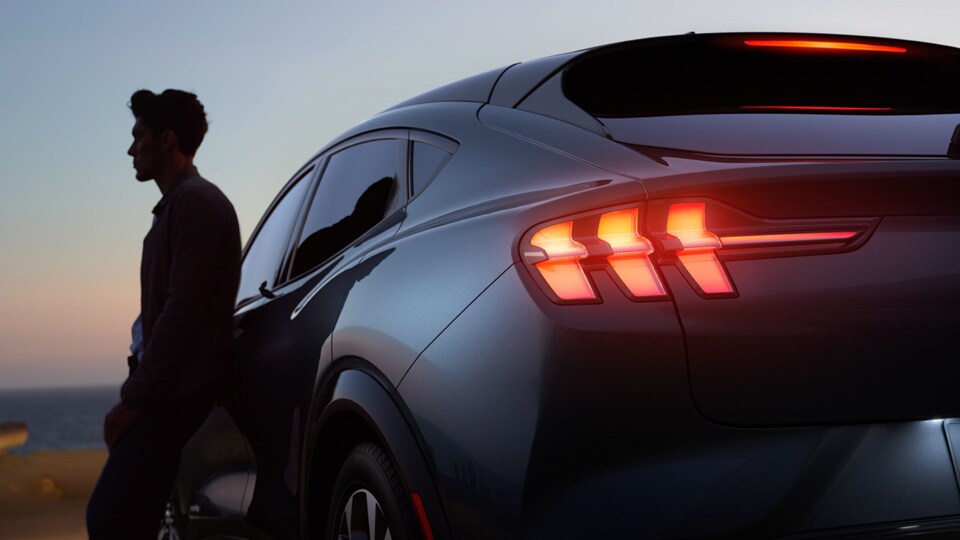 Muscular Stance
Following the long tradition, The Mach-E is designed with strong muscular lines and similar proportions to the 2020 Mustang models including the distinct roof-line. The Mach-E adds its own flare with more sweeping lines and smoother accents that give the SUV a unique personality.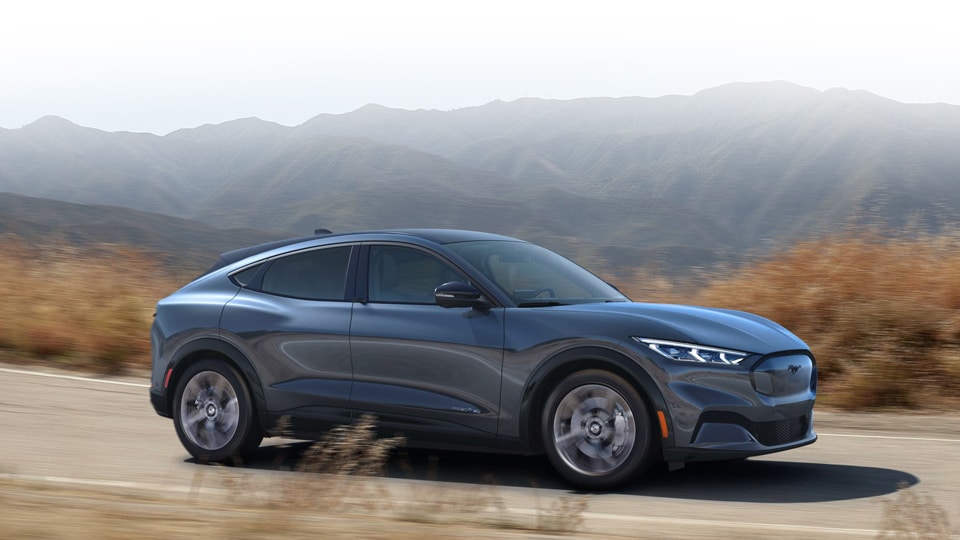 Strong Shape
The overall shape of the Mach-E has many similarities with the Mustang but the softer angles and smoother body lines feel slightly less aggressive and a touch more modern.
Two-Tone Style
With an available panoramic roof the two-tone roof gives the SUV a modern touch that is accented in unique wheel designs that set each trim apart.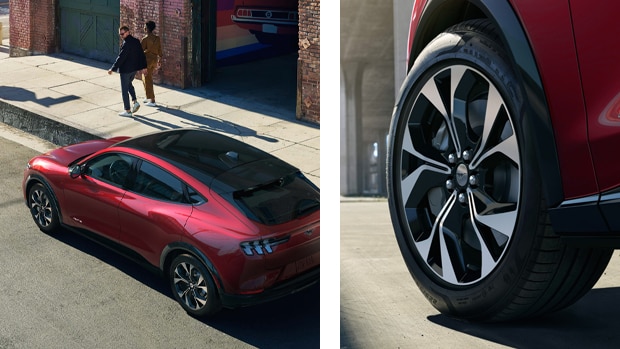 Interior

Forward Looking
The newly designed cabin brings simple, sport-inspired design to this performance SUV. The Mach-E shows off an incredible infotainment system and digital cluster that add a whole new dynamic to the Mustang driving experience.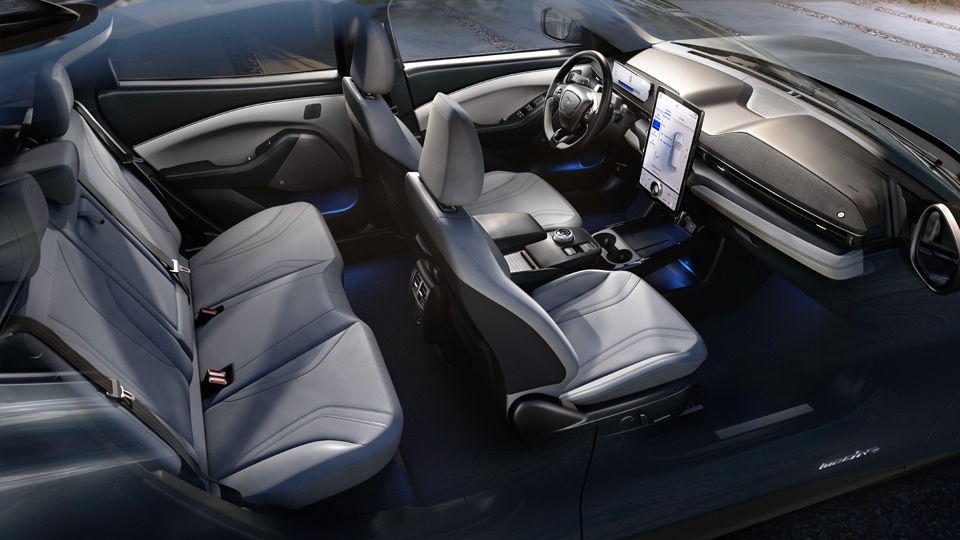 Simple Design
With a fresh slate, Ford crafted a simple and modern interior that brings technology with comfort. The layout optimizes legroom with simplicity to create a spacious and comfortable cabin.
Tablet Style Infotainment
Easily customize your experience with the striking and simple interface designs that allow you quick control. The 15.5 inch display is massive and transforms cabin into a futuristic cockpit.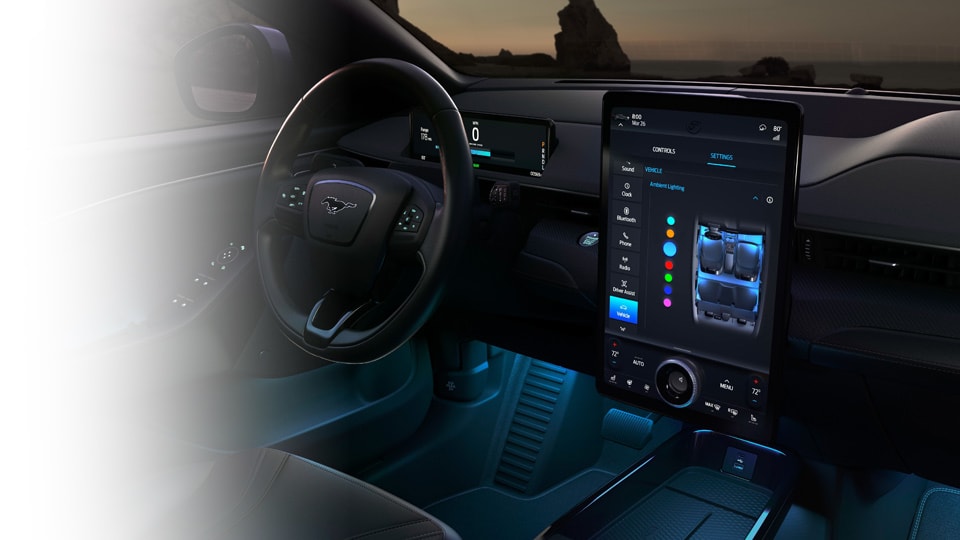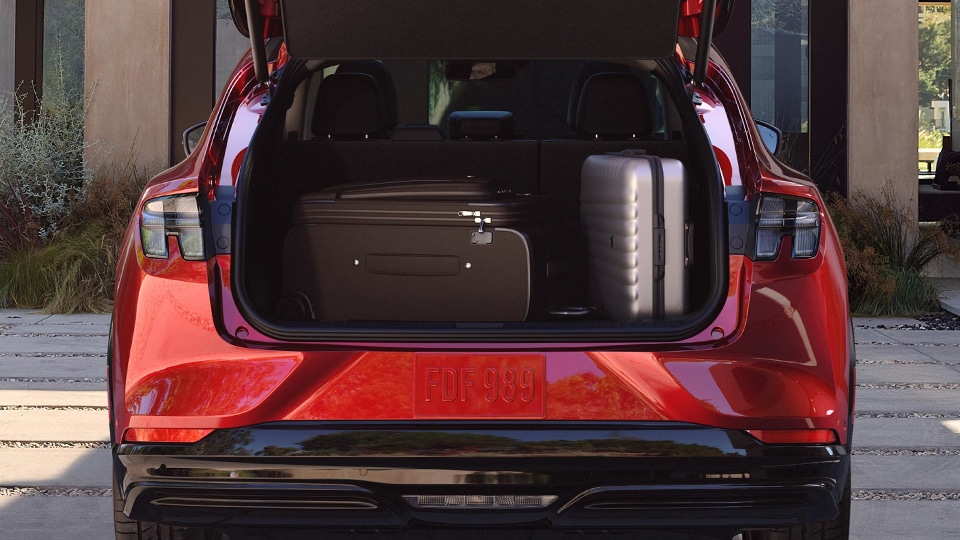 Rear Storage
The trunk gives Mustang fans more room to bring what you love along. The rear gate opens up to a good amount of storage in the rear and adds versatility to the Mustang name.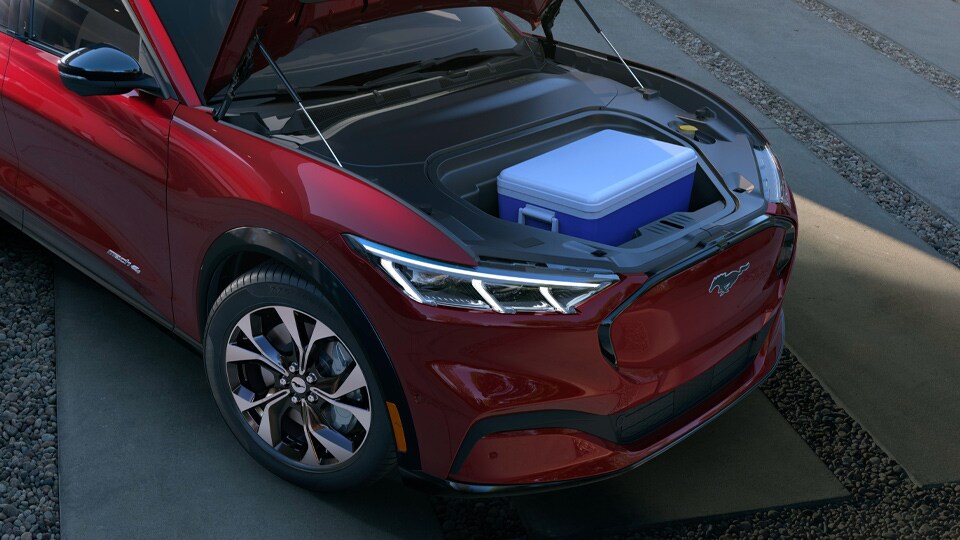 Front Trunk
The electric motor location allows for unique storage under the hood that can also be drained, allowing for ice storage. The Mach-E truly has some surprising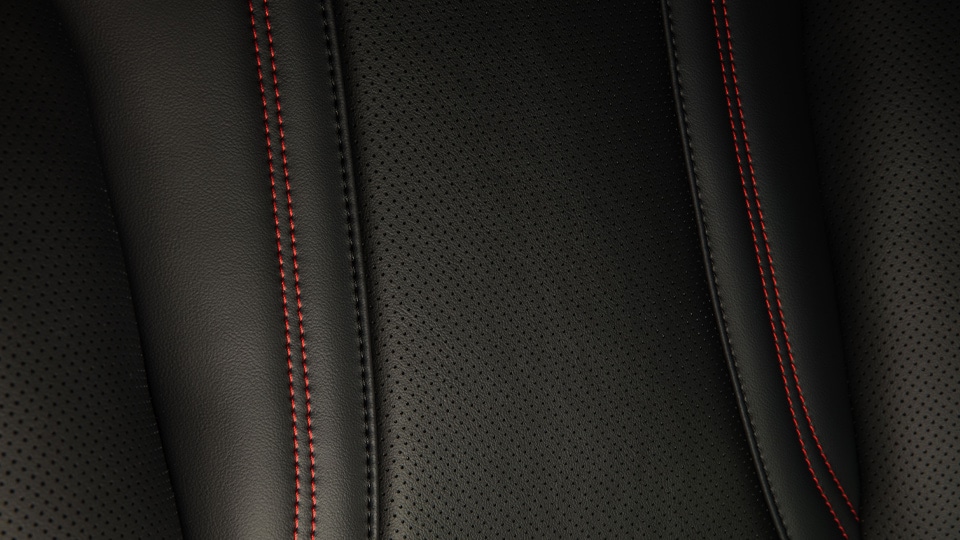 Luxury Materials
The entire cabin is built with high-quality materials and stylish design, continuing the Mustang tradition. The high-contrast red stitching shown here gives the Mach-E that classic hot-rod style.
Panoramic Sunroof
This sunroof runs the length of the of the cabin and brings the outside world in. The experience is truly unique and adds to the distinct design of the performance SUV.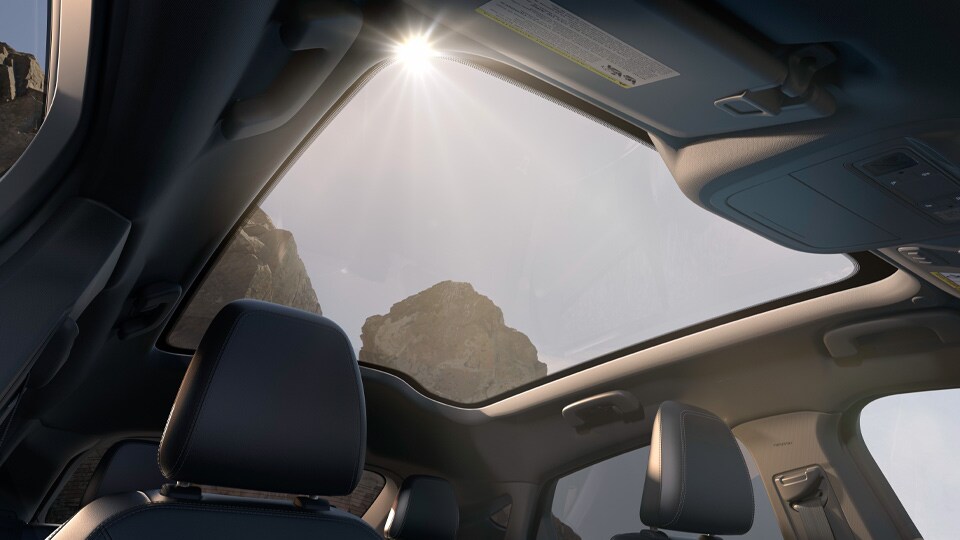 Get Behind the Wheel!
Get a look at the new modern design of the 2021 Mustang Mach-E and test drive for yourself! The unique performance SUV is like nothing you've driven before. Our experienced staff will answer any questions you have and help you find the perfect car for you.
Mustang Inventory
Need Help? Contact Us
Performance

Electric Quickness
The Mach-E brings new thrill to the Ford lineup with the crazy quickness that electric motors offer. The jump off the line and smooth acceleration pair with Ford performance parts for a one of a kind SUV that handles more in-line with a sports car.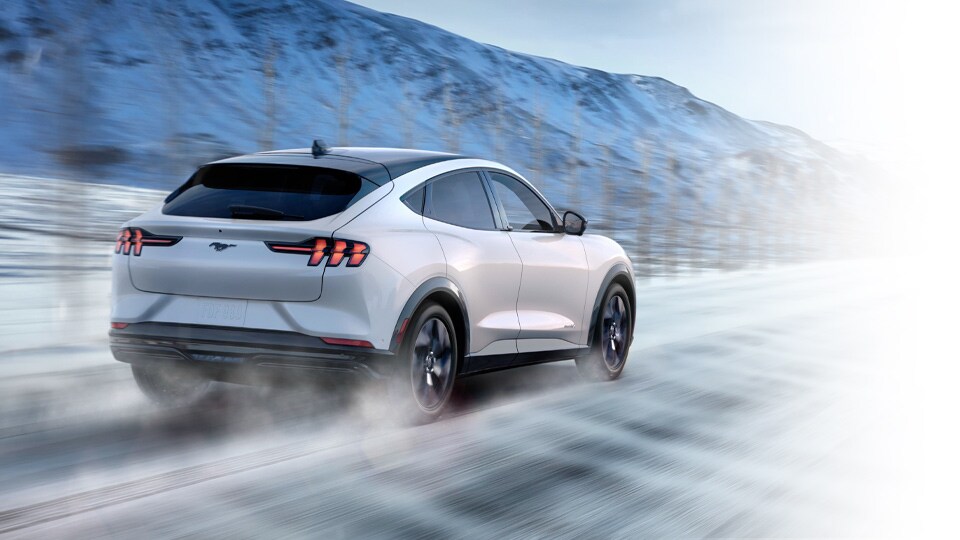 Dual Motor AWD
The dual electronic motors give the Mach-E innovative control on the fly to keep traction at a maximum. The performance of Mustang can now be enjoyed safely year round.
Quick Response
Drive with confidence as the Ford Performance handling limits body roll and gives the driver quick responsiveness that can be felt. Performance tires give the Mach-E the grip that it needs to handle the additional torque applied to the tires.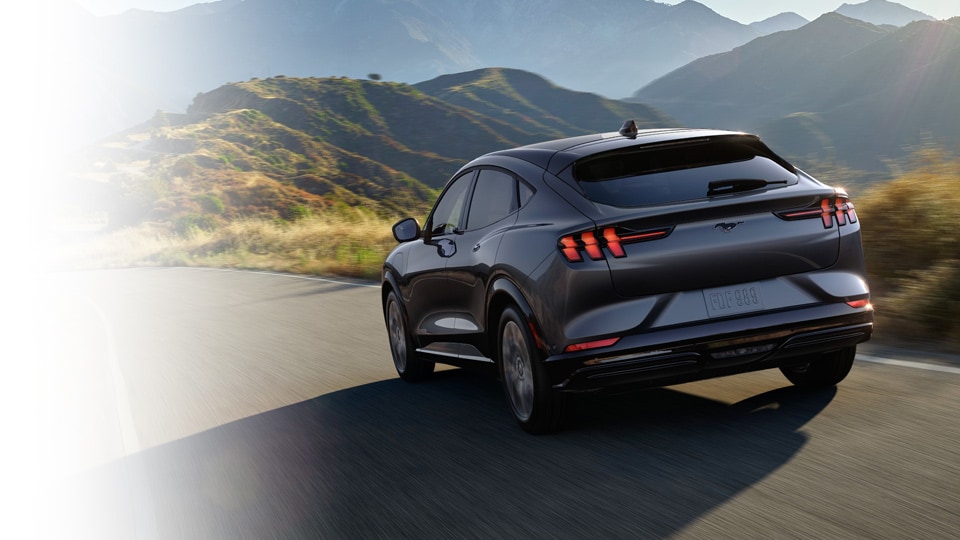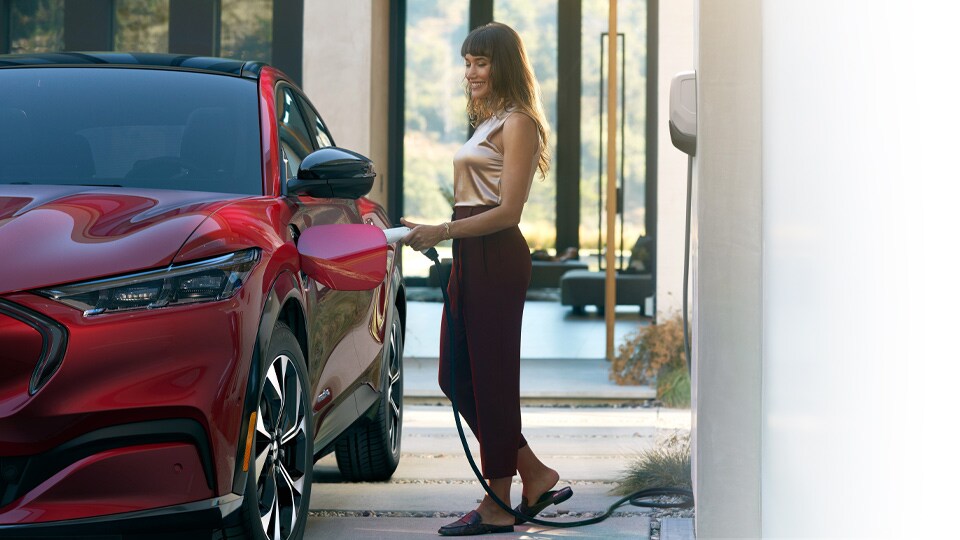 Battery Improvements
Enjoy a range of around 300 miles and fast charge times that will keep you enjoying your Mach-E all day long. The fast charge allows for 47 mile range to be added in only 10 minutes and gives you the ability to stay on the move.
Performance Design
All proportions are designed with aerodynamics and performance in mind to create the future of performance SUVs. The Ford Performance team created a beast in the 2021 Mustang Mach-E.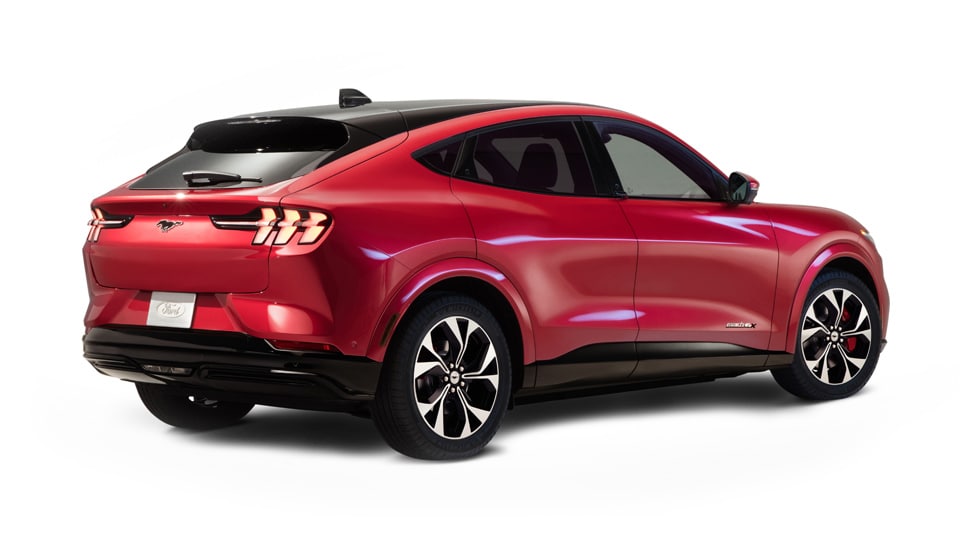 Safety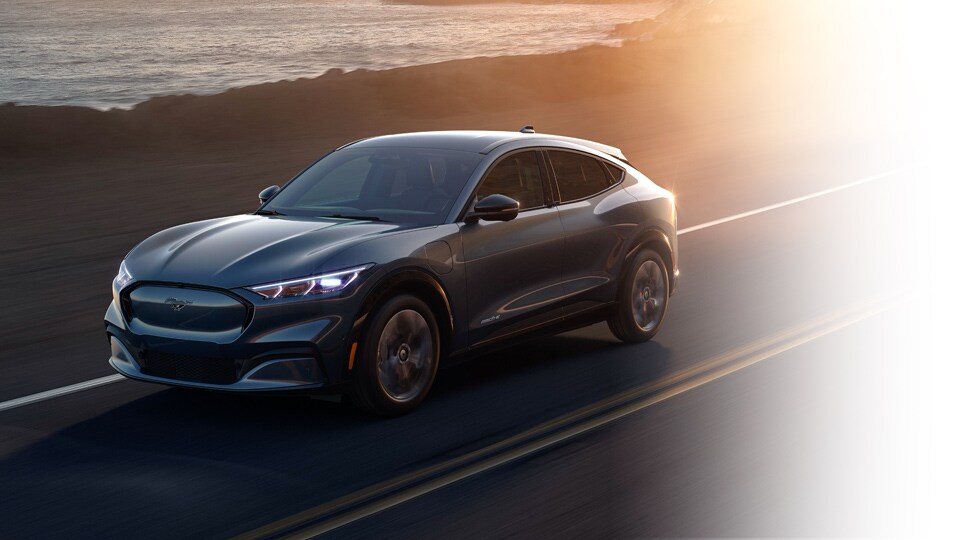 The Newest Safety Technology
Ford not only focuses on performance but also the newest active safety technology to keep you and your passengers safe. The Mach-E will offer a wide range of safety options to go along with an intelligent airbag system.
Available Safety Features
Cross-Traffic Alert
Pre-Collision Assist with Automatic Emergency Braking
Smart Cruise Control
Auto High-Beam Headlamps
Lane-Keeping System
Rear View Camera
and More

Shop McGrath Ford in Cedar Rapids!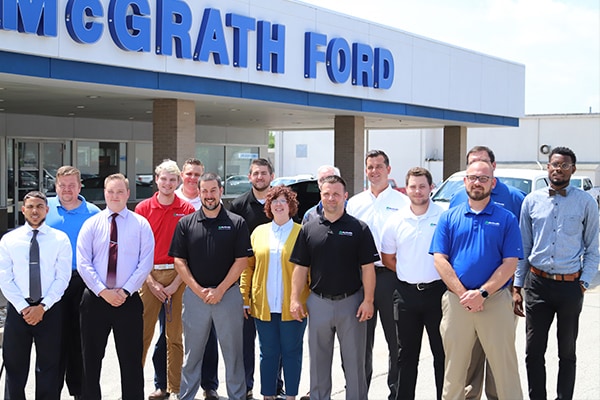 Get More with McGrath!
Here at McGrath Ford our focus is on the customer's buying experience being fun and easy. We pride ourselves in our large selection of new and used cars, trucks and suvs. Come stop in for a visit today! You always Get More with McGrath!
What Our Customers Are Saying:
We had a good experience from the time we found this vehicle on-line until I signed the papers. Everyone was knowledgable and a no pressure sales approach. Keagan Verschuure, our sales consultant, was very helpful, friendly and if he didn't know the answer to a question, he got it quickly. I got a GREAT deal! THANKS!!!
Jennifer Johnson
Cedar Rapids , IA
This review is for Curtis in used car sales . I am a picky customer to start with. My wife and I where looking for 6 months for a Ford explorer or expedition. Had been to many dealerships from St. Paul MN , to Cedar Rapids IA . I would ask questions about the vehicles that the average sales associate should know and was disappointed. Like timing change noises or other problems. After explaining what "unicorn" I was looking for Curtis went well beyond the call of duty to answer all questions . Even though he was walking with a cane he put himself under the SUV to address my concerns. In conclusion if Curtis moves to another dealership I will find him. This review was delayed by a year .... and I am still happy to write it. Thanks Curtis
Ross Heoft
Stewartville, MN
Dayton Sumner Formanek Is one hardworking individual. If you are even looking for a particular vehicle let him know he will search high and low and plus he will look for the best vehicle and be honest if the vehicle you are looking at is the wrong fit for you. He will not push you towards a higher priced vehicle he wants the find the exact and perfect fit for you regardless if its 3000 less than another. Believe me when I say he is not your typical car salesman he cares less about the price and more about you. He is truly a friend now. We are probably gonna go get some lunch sometime actually. He talks very little on test drives as he wants you to feel the car and not hear a bunch of chatter. he gives more than 110% to find the best for you.
William Nix Jr.
Cedar Rapids, IA