2017 Hyundai Elantra vs 2017 Nissan Sentra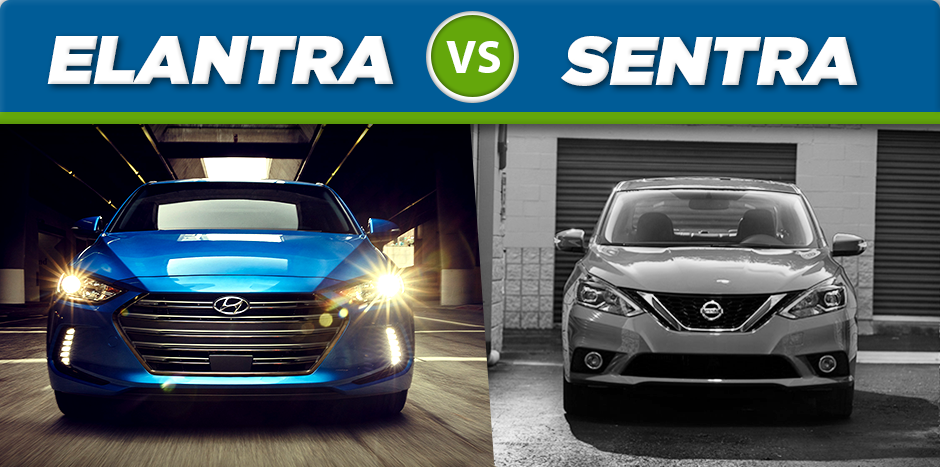 The 2017 Hyundai Elantra and 2017 Nissan Sentra go head-to-head in this comparison showdown where we answer the questions folks like you are asking us on our salesfloor!
| 2017 Hyundai Elantra | Features | 2017 Nissan Sentra |
| --- | --- | --- |
| | Overall Safety Rating | |
| $13,900 | Starting at | $17,615 |
| 8-Inch | Larger Touchscreen | 5.8-inch |
| 5 Years/60,000 miles | Warranty | 3 Years/36,000 miles |
| Available | Lane Departure Warning | Not Available |
| Available | HID Headlights with Dynamic Bending Light | Not Available |
The 2017 Hyundai Elantra
The 2017 Hyundai Elantra comes at a small compact price, but with BIG style! It's new to the market, but already making waves and winning awards. The newest Elantra received the Biggest Bang for the Buck Award from the Greater Atlanta Automotive Media Association. Featuring a more upright grille, vertical turn signals, LED running lamps, and HID headlamps the '17 Hyundai Elantra is indeed the more stylish choice if you're even considering a Nissan Sentra.
The chiselled hood and body sides, in addition to 17 inch alloy wheels give the '17 Elantra a smooth, suave look that's unmatched in its class.
Shop Our Inventory
The 2017 Hyundai Elantra is Bigger Than Sentra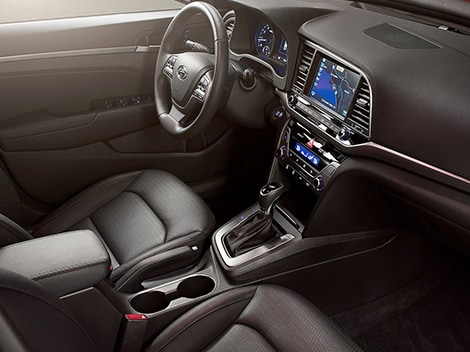 The New Hyundai Elantra
The new Elantra adds an inch of overall length AND width giving it more leg room than any other vehicle at this price. Even with the additional space, the Elantra is "peppy and efficient", with a center console that's focused on the driver, with touchscreen and climate control easily within reach.
Current Offers
Price Tag That Works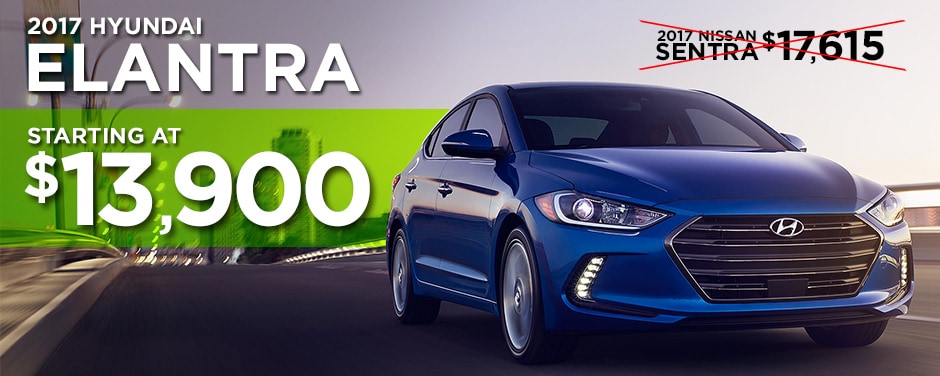 The 2017 Hyundai Elantra starts at $13,900 while the 2017 Nissan Sentra begins at $17,615. The Elantra beats Sentra on the road and in your pocketbook. Why spend more for an inferior vehicle called "as low rent as ever" by Car and Driver?
Gas Powered Sedan that
actually gets 40 MPG highway!

At an impressive 40 MPG highway the '17 Elantra blows Nissan Sentra away in the efficiency department. While the Elantra can boast 32 city/40 highway the Sentra only managed 29 city/32 highway in multiple tests.
2017 Hyundai Elantra
Packed with Technology!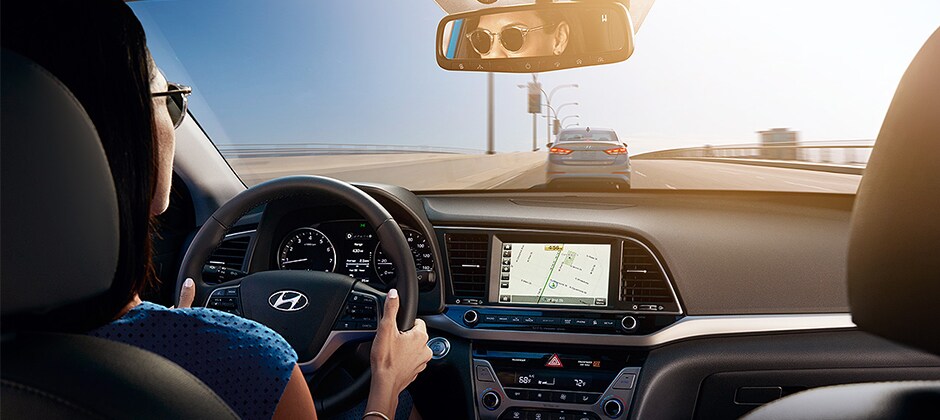 Safety technology includes auto emergency brakes that can detect pedestrians in your path, adaptive cruise control that helps manage your road trip, lane assistance and review camera for those touch parallel parking jobs.
You'll also find the Elantra equipped with hands free Smart Trunk technology, heated front and rear seats and deeper smart phone integration with support for Android Auto and Apple CarPlay.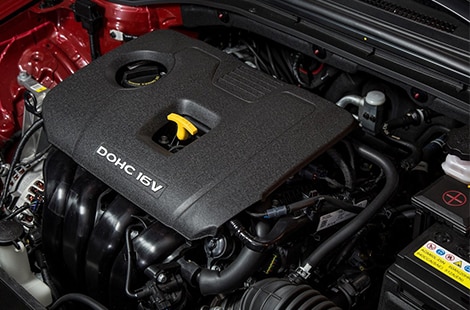 Engine size isn't a bragging point in the compact car segment, but the newest Elantra gets the job done with its new efficient 1.4 liter Kappa turbocharged GDI 4-cylinder engine.
The 2017 Nissan Sentra has a long spec sheet of available technology features, but many lag years behind top-end vehicle technology and are poorly implemented.
Want to Learn More?
Contact Us

That's a quote directly from Car and Driver, one of the most authoritative auto publications in the world. They rarely encounter modern vehicles with as many flaws as the 2017 Nissan Sentra. Problems with the '17 Sentra included:
Chassis is harsh over mild road imperfections
Road, tire and wind noise remain omnipresent
191 feet stopping distance from 70 MPH. Worse than any other car in the segment
Only 130 horsepower, which would have been competitive two decades ago
Hollow sounding hard-plastic door panels
Clunky shift lever
Featureless expanses of panels
Inconsistent single-stitch seams on the seats
Seats that are both flat and lumpy
Unpredictable handling