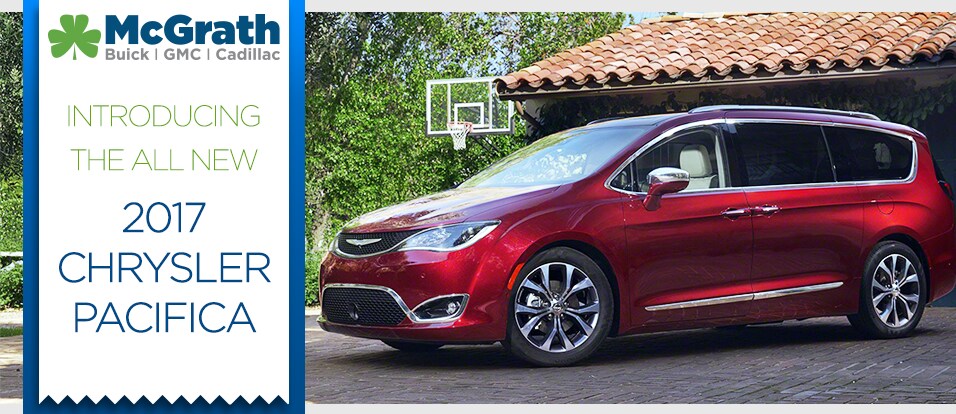 Meet the all new 2017 Chrysler Pacifica! Get ready to change your views on the minivan--Chrysler designed this vehicle from the ground up, it is the quietest and has the best ride & handling in the segment. Best in class interior room and over 100 available saftey features, including the available 360 degree camera! Also first in the minivan segment is the Hybrid Chrysler Pacifica that will give you 30 MPGe before having to recharge/switch to your V-6 gas engine.
THE ALL NEW 2017 CHRYSLER PACIFICA
THE 2017 CHRYSLER PACIFICA REVEAL
The 2017 Chrysler Pacifica is the most awarded minivan in history:
Most Powerful & Fuel Efficient
More Safety Features than any competitior
Quietest Interior
Most Advanced Entertainment System
View Inventory
CHRYSLER PACIFICA EXTERIOR FEATURES
STARTING AT $28,595!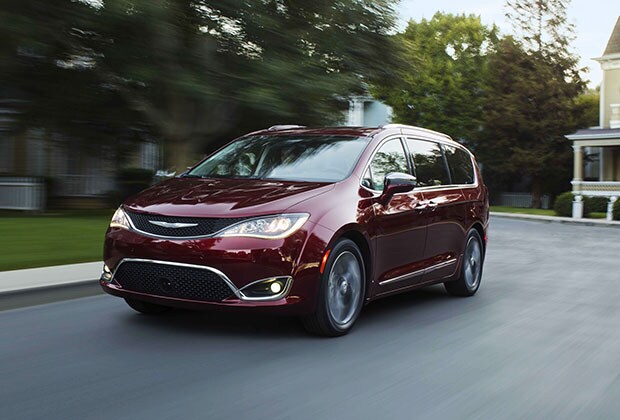 Designers of the Pacifica worked countless hours to really touch on all the wants and needs of what people really expect to get from their vehicle. Contrast and crisp edging was key for the design to capture the modern feel that Chrysler was reaching towards. In addition, the beautiful front lighting trim and the horizontal rear taillamps tie the sophisticated yet sporty exterior of the 2017 Pacifica together.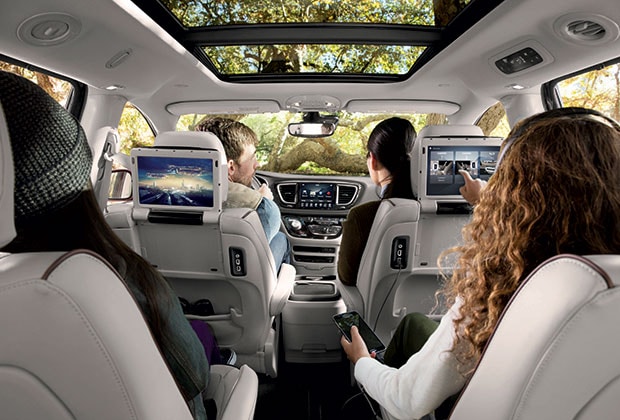 The 2017 Chrysler Pacifica offers FCA's first 360 degree camera that allows you to see a birds-eye-view of the vehicles surroundings to avoid possible hazards while backing up from hard to see garages or parking space. Also available is the smart parking features of parallel or reverse parking, meaning your Pacifica can park itself for you thanks to the 360 degree camera!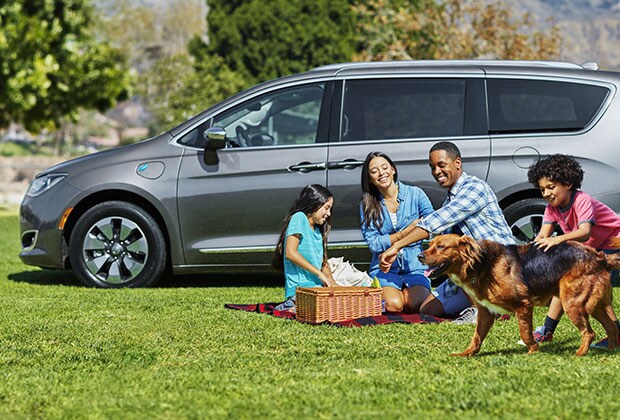 2017 Chrysler Pacifica Hybrid is the worlds first and only 80 MPGe hybrid minivan. You will be able to complete your daily errands without the gas engine even needing to be used with the 30 MPGe range you get from the electric engine. When needed the 2017 Pacifica Hybrid seemlessly changes to the 3.6L V-6 Pentastar Gas Engine, combined this Hybrid Minivan will give you 530 MPGe without stopping! The vehicle is equipped with a chager that will give you a full charge just under 2 hours.
INTERIOR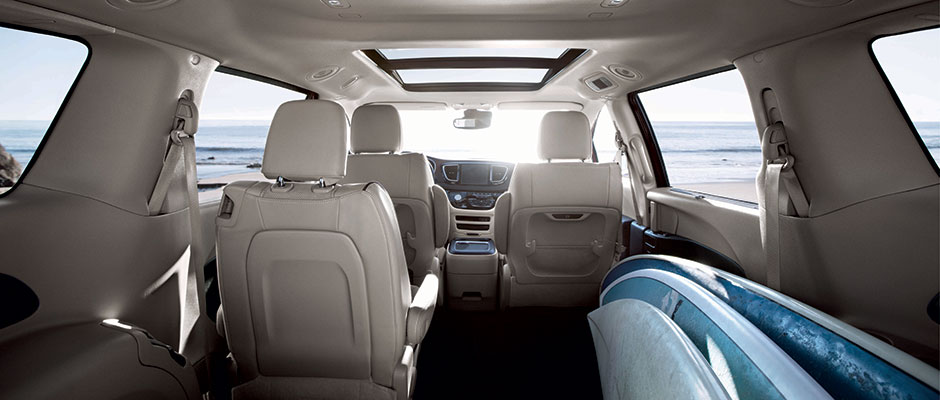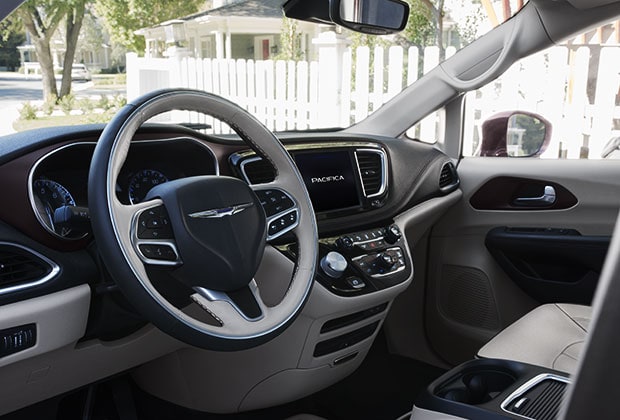 An exciting interior feature the new 2017 Chrysler Pacifica offers is 8 passenger seating! With the wide platform of the Pacifica, it leaves plenty of room for 8 passengers to sit comfortably inside the Pacifica's cabin. Also first in it's class is hands free side opening doors and hands free liftgate, with a simple swipe of the foot your side doors open without having to put down those groceries! Chrysler knows how important quick and easy stow and go access needs to be for rapid cargo transportation needs. With an accessible second row button to shift the front ront seats forward, you get all the room you need to quickly flip your second and third row seating down.
TECHNOLOGY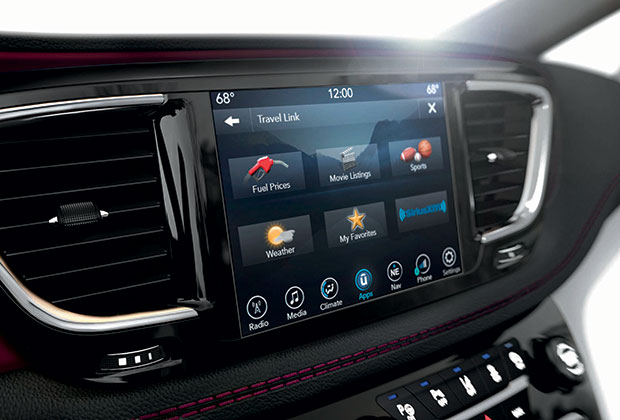 UCONNECT THEATER
The customizable Uconnect 8.4 touch-screen radio system and entertainment system is available in the Chrysler Pacifica. With multiple built in applications with a drag & drop favorites menu, two second row 10 inch touch screen monitors, that are linked with your Uconnect to control the BluRay Player or access videos in your USB memory slot.
The two seperate 10 inch touch screen monitors in the back of each front row seat gives second row passengers access to different built in apps. The two second row 10 inch touch screen monitors include great game apps for all ages: Backseat Bingo, Sudoku and "Are We There Yet?". "Are We There Yet?" is an app that lets your passengers see how far until you reach your destination in a fun navigation screen for your passengers to follow along with!
SAFETY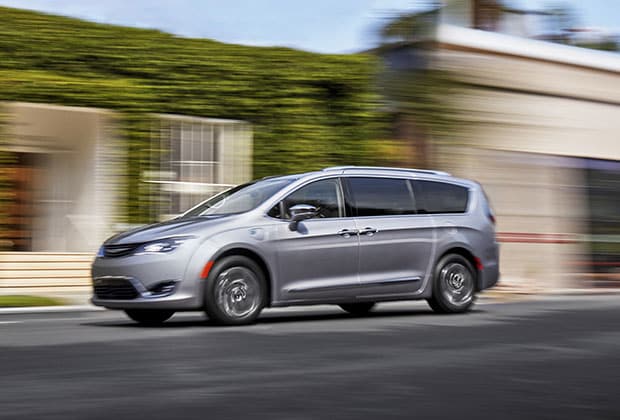 Safety Features
Just a few of over 100 available safety features in the Chrysler Pacifica are:
360 Degree Camera
Forward Collision Warning with Active Braking
Lane Departure Warning with Haptic Feedback in the steering wheel (Provides a nudge to keep you in the lane to help you stay alert.)
Parkview Rear Back Up Camera with Rear Park Assist
Adaptive Cruise Control with Stop & Go
Blind Spot Monitoring System and Rear Cross Path Detection