The Specs:
| 2016 Ford Fusion | vs | 2016 Chrysler 200 |
| --- | --- | --- |
| 2.5L Inline 4 | Engine | 2.4L Inline 4 |
| 175HP | Horsepower | 184HP |
| 22 MPG | Fuel Economy (City) | 23 MPG |
| 34 MPG | Fuel Economy (Highway) | 36 MPG |
| 175 lb-ft | Torque | 173 lb-ft |
| Standard | Bluetooth | Optional |
There are a lot of mid-sized sedans to choose from in the 2016 market, with competing designs from a variety of brands. Mid-sized sedans offer a roomier feel and typically more powerful engines than the compact class. Ford continues to refine their popular Ford Fusion sedan after a complete redesign in 2013; Chrysler's entry into the market is the Chrysler 200, itself the subject of a 2015 redesign
Performance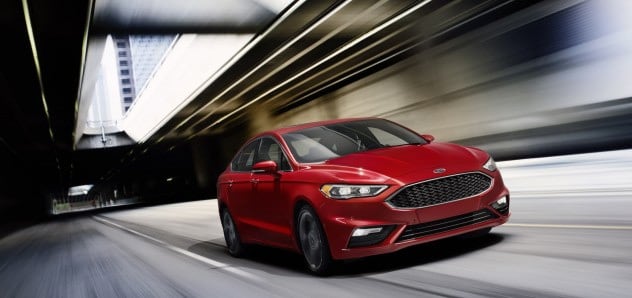 The Chrysler 200 begins with a standard 2.4 liter, 4-cylinder engine that offers slightly more horsepower than the Ford Fusion's standard 2.5 liter, 4-cylinder engine on the base S and SE trims (184 vs 175), but slightly less torque (173 pound-feet vs 175). Chrysler offers an optional 3.6 liter V6 for the Limited, S, and C trims with 295 hp and 262 torque, while Ford opts to offer a choice of turbocharged engines for the SE trim: a 1.5 liter 4-cylinder (181hp/185 torque) or a 2.0 liter 4-cylinder (240hp/270 torque). The Ford Fusion Titanium comes with the 2.0 liter turbo standard. While the optional V6 on the 200 offers solid 0 to 60 performance at 6.2 seconds, the base 2.4 liter requires 9 seconds to reach 60mph, making it below average in the mid-sized sedan class.
Fuel Efficiency
EPA fuel economy estimates for both vehicles fall into a relatively similar range at the start. The Chrysler 200's 2.4 liter base engine rates at 23 mpg city and 36 mpg* highway, while the Ford Focus' 1.5 liter base engine rates at 22 mpg city and 34 mpg highway*, giving both of them an average fuel economy for their class. The V6 on the Chrysler 200 trades power for fuel efficiency, dropping the ratings to 19 city/32 highway* with 2-wheel drive and 18 city/29 highway* with the optional 4-wheel drive.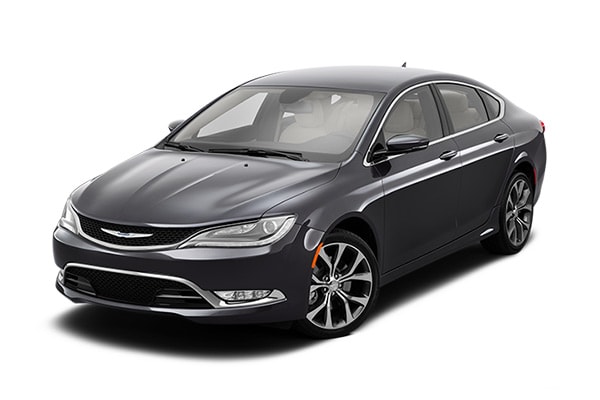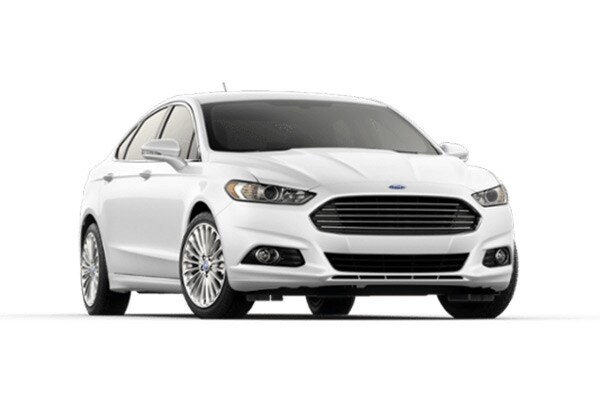 For the Ford Focus, the 1.5 liter turbo offers an optional engine stop-start function. Without stop-start, the 1.5 liter rates 23 city/36 highway*, giving it efficiency roughly identical to the 200's 2.4 liter. Adding stop-start increases this to 25 city/37 highway*. The top 2.0 liter turbo engine on the Fusion edges out the Chrysler V6 in fuel economy with 22 city/33* highway on front-wheel drive and 22 city/31 highway* on all-wheel drive..
Hybrid Options
If you're looking for even better fuel economy, the Ford Fusion isn't limited to just the standard gasoline engines. Ford has made a strong entry into the hybrid sedan market as well, offering consumers the Fusion Hybrid and Fusion Hybrid Energi. While both hybrids have slightly less interior space due to the extra room needed for their batteries, they otherwise offer a comparable feature set to the standard Fusion Sedan. The Fusion Hybrid offers a significant fuel economy boost over both the Fusion and the 200, with an EPA estimated 44 mpg city and 41 highway* from the standard 2.0 liter turbo. The Hybrid Energi adds an all-electric chargeable mode that adds another 20 miles to the Hybrid's range while maintaining the same efficiency.
What's For You?