The Specs:
| 2016 Ford F-150 | vs | 2016 Chevy Silverado |
| --- | --- | --- |
| 3,270 | Max Payload | 2,180 |
| Yes | Advanced gasoline turbo direct-injection engine: | No |
| 6 Speed Automatic | Transmission | 6 Speed Automatic |
| 19 MPG | Fuel Economy (City) | 18 MPG |
| 26 MPG | Fuel Economy (Highway) | 24 MPG |
| 77 Cubic Feet | Storage Volume | 76 Cubic Feet |
With that spacious cargo box in the back, full-size pickups were originally built for hauling those loads other personal vehicles couldn't. Over the years, they've only gotten better at this job. On top of that, in recent years, they've gotten better at making the ride more enjoyable.Having established itself as a hugely popular full-size truck starting in late 70s, the Ford F-150 has held this lead by staying on top of the latest trends. Along the way, the Chevy Silverado has positioned itself as a major rival through its innovations in both hauling power and comfort. As this brief comparison shows, 2016 looks like another tight match between the two heavy-hitters in the pickup category.
Carrying Capability
Although both the F-150 and Silverado 1500 supply the same three basic sizes of cargo box, the F-150 bed can carry nearly 3,300 pounds of materials while the Silverado tops out at 1,800. The F-150 also maintains a 200 pound lead over the Silverado's 12,000 pound towing ability. In the arena of making the cargo box accessible, the competition gets particularly interesting. The Silverado has included things like a front running board that slides back to allow easy access to the front end of the bed. Both trucks offer folding side steps at the corners of the rear bumper for those quick checks after the gate's been closed.The F-150, though, has kept its dominant position over the Silverado 1500 by also providing things like adjustable ramps that slide into the bed, a stair step with hand rail that folds into the tailgate, and a remote control button that automatically locks, unlocks, and lowers the tailgate itself. It also incorporates the BoxLink system that provides considerable flexibility when securing multiple payloads. Best of all, the F-150 bed is constructed from rust-proof aluminum.
The 2016 Ford F-150 stowable bed ramps.
Safety
As full-size pickup trucks, both the F-150 and Silverado sport a substantial build that's given them high crash test ratings. They also both employ safety features like antilock brakes, traction control, and stability control. Front and side airbags are supplied by both trucks, but the F-150 goes further by including inflatable seat belts for back passengers.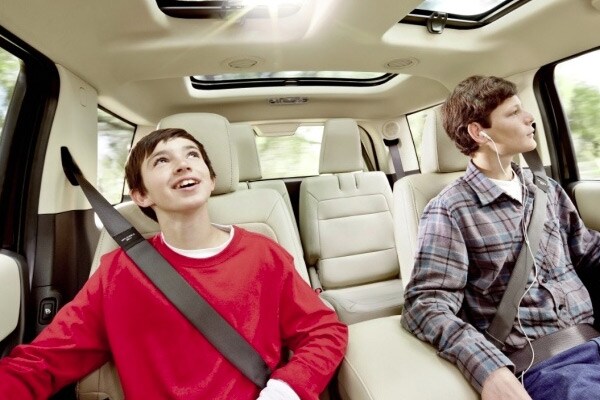 The F150s inflatable seat belts.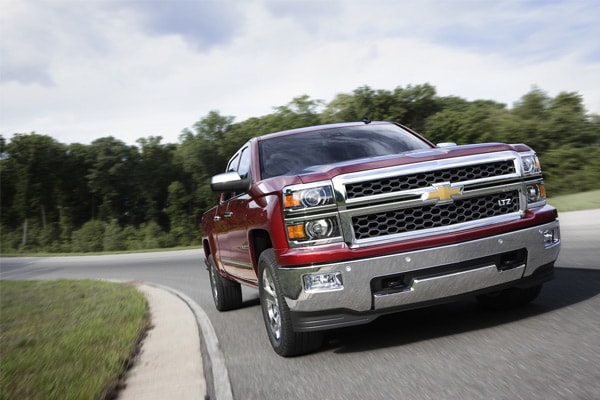 More sophisticated safety features offered by both Chevy and Ford include forward collision warnings, parking assistance, and lane holding capability. The F-150 expands on this to include 360 degrees of video coverage, a blind spot monitor, and curve control that automatically slows the vehicle when it rounds a corner too sharply.
Technology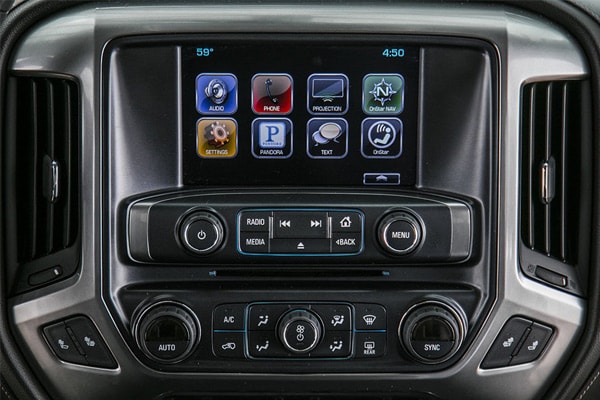 Electronic sophistication plays a big part in making full-size pickups more luxurious. Both trucks provide sizable touch screens with alternative voice control to activate music, communications, and information capabilities. While the Silverado includes a wireless recharger and 4G LTE WiFi connectivity, the F-150 has taken a big step forward with the introduction of Pro Trailer Backup Assist. This feature allows the driver to indicate which direction an attached trailer should go, and the vehicle controls the steering and speed to make it happen.
What's For You?