Come Join Our Family!
Whether you're ready for a new start or looking to take the next step in advancing your career, McGrath Family of Dealerships is a place to grow. No matter what your passion is, we have a rewarding opportunity waiting just for you! Exceptional pay & benefits working alongside a fun team that's been serving this community since 1952!
Positions Available
Are You Ready for a Life Changing Career Move?
Our family isn't simply a group of folks with the same family tree. It's a team of people nearly 1,000 strong, bound together by a simple goal: exceed expectations. Since 1952, our team has worked relentlessly to establish McGrath as the #1 trusted name in automotive sales and service for the incredible people of Eastern Iowa and beyond.
"McGrath invests so much in their people and they truly care. I can absolutely say I will never leave this company"
A commitment to three promises, both to our guests and our staff, has served as the driving force propelling us towards reaching this goal:
Do the Right Thing. Exceed Expectations. Make a Difference.
Through the pursuit to deliver on these promises every day, we've built a reputation of providing an honest and personable experience in the car business. More importantly, by we enrich ourselves, each other, and our community. Does this sound like the type of culture you want to be a part of? Join our family!
McGrath Has a Great Job For You!
Jumpstart Your Career with McGrath
Don't let this opportunity pass you by! Join a fast-growing team offering you room to grow and establish yourself as one of the area's best. If you've got the drive and the attitude, this is the position you've been looking for. Let's get started!
Apply Now
A Culture of Teamwork
We don't need much help convincing folks that McGrath is an amazing place to grow your career. As they say, "The proof is in the pudding!" With well over 60 people having at least 5 years of experience on our team, and many individuals that have spent their entire career working for the McGrath Automotive Family, we've developed a tight-knit group of diverse and motivated individuals that have built our culture into a fun and welcoming place to thrive, personally and professionally! A large reason for that due to our focus on career advancement from within. Over 90% of our management staff started here as sales consultants!
M
c

Grath is Your Place to Grow
20+ Years of Service
John Baker
Cindy Balsanek
Andy Burns
Vince Edwards
Michael Fandel
Donald Fennern
Mitchell Gaherty
Michael Galli
Terry Groom
Cory Hosch
Tammy Roberts Haasl
Ken Hill
Jeffrey Jacques
Tony Komisar
Kristine Kremer
George Mantor
Michael Mckern
William Miller
Rob Olive
Dave Olsem
Keith Recker
John Rink
Rick Sayre
Abe Simon
Robert Smith
Chris Stevens
Angie Strait
Arnold Strottman
Tommy Wood
Clint Wasendorf
15+ Years of Service
John Brown
Kelly Hutchins
Daraleah Kearns
Jeremy Kindl
Rick Miller
Todd Polland
Shaun Ritchie
Gary Suby
Daniel Thomsen
John Vasquez
10+ Years of Service
Eric Bagg
Dennis Black
Scott Carter
Vance Edwards
Michael Ehlinger
Cal Faul
Beth Hadenfeldt
Teresa Hagen
Jordan Hoppman
Richard Johnson
Melissa Johnson
Kelli Konen
Brad Mackey
Joel McDowell
Gavin McGrath
Jaymie McGrath Hobson
Lindsay McGrath-Vasquez
Brent O'Donnell
Todd Palmer
Mark Prastka
Conor Rink
David Roach
Scott Roshar
Kelly Saari
Michael Schmitt
Patrick Sheeley
Heidi Short
Jeffrey Simmons
Orrin Smith
Michael Stillmunkes
TJ Thomason
Judy Towell
Todd Turner
5+ Years of Service
Ashley Andersen
Joel Andrew
Trevor Arnold
Brad Beachel
James Becker
Eldon Breitbach
Gerald Brenke
Kari Brost
Everett Brown
Cody Burke
Jamie Butts
Justin Carpenter
Brian Caston
John Chapman
Nicholas Christensen
Brendon Cox
Gary Cummings
Carol Cummings
Benjamin Davis
Patrick Davis
Daniel Deal
Chris Dillon
Adam Dubois
Chad Eastman
Ashley Eckhoff
Garrett Ellard
Hanna Ellis
Moe Elmeanawy
Kristin Eschweiler
Errol Everett
Tyler Feldmann
Danielle Fisher
Krista Fleming
John Fox
Tyler Giese
Trenda Giese
Craig Hanna
Roger Hansen
Ethan Hartman
Brad Hartwig
Brianna Heineman
Anthony Hobson
John Hoy
Denver Hudrlik
Chris Jansen
Tyler Janssen
Daniel Johnson
Spenser Jonas
Scott Kadera
Kody Kelley
Michael Konzen
Kevin Krogman
Jered Long
Eric Lorimer
Jared Lucky
Dick Lynch
Jared Martin
Michael McAtee
Angela McCullough
Stacy McDonald
Dario McHaney
Mark Meier
Jeffrey Melcher
Brett Merck
Kevin Merrifield
Amanda Mesch
Andrew Miller
Nicole Morgan
Vince Mostek
Jill Muklewicz
Jeffrey Mullinnix
Craig Neves
Thomas Oakley
Sandra Oakley
Josh Orthel
Cynthia Petersen
Melissa Payne
Steven Pfeifer
Jessica Pira
Adam Pladna
Jack Plowman
Josh Powell
Jeffrey Rink
Kyle Roper
Ben Rusnak
Joshua Schilder
Trevor Shannahan
Patrick Sheeley
Collin Sleeper
Kurtis Smith
Alan Smith
Jeremy Smith
Sue Snitker
James Steffen

George Stephsenson
Taylor Stoutner
Dennis Sullivan
Zach Symonds
Charleslee Sykora
Ben Taylor
Eric Teeter
Louis Trachta
Mark Updegraff
Ryan Vaassen
Thomas Vaassen
Preston Valdez
Jordan Walker
Derek Wardell
Gregory Ware
Steven Weber
Cody West
Ronald Westhoff
Kory Wilford
Dustin Willey
Tyler Wilt
Troy Wirtner
Devin Wright
Tyler Young
Fun Work. Great People. Your New Career!
As one of the largest and most influential organizations in Eastern Iowa, to keep pace with our rapid development we are in constant need of energetic, ambitious and self-motivated individuals to join our team. McGrath has one of the best compensation packages in the auto industry. We offer a highly competitive minimum income along with an aggressive commission and bonus package, incredible benefits and much more!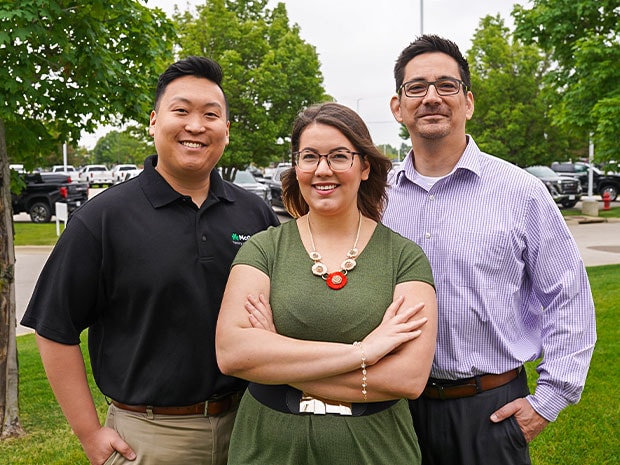 Why Work at McGrath?
401k Retirement Savings
Health Insurance
Dental Insurance
Vision Insurance
Paid Time Off
Paid Vacation
Paid Training
5 Day Work Week
Flexible Schedule
Our Goal is For You to Thrive!
If you're looking for a mission driven career, opportunities for personal and professional growth, and want to be part of a winning team, we invite you to learn for yourself why McGrath is the company of choice!
Why McGrath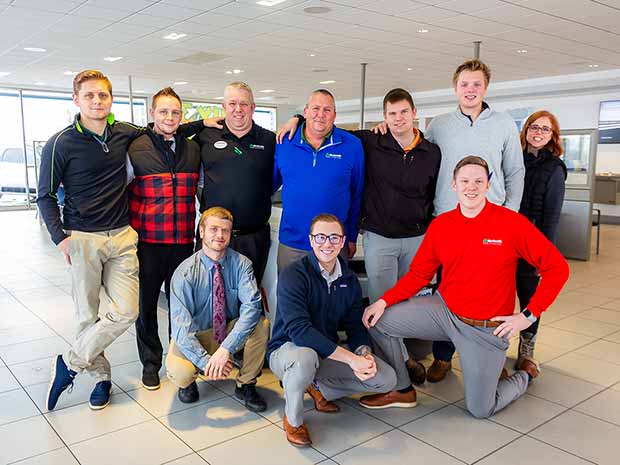 Let's Get You Started!
Don't put off until tomorrow what you can do today! Whether you're a veteran of the auto industry looking for a better opportunity, or you don't know the first thing about cars and looking to try something new, you've got nothing to lose and everything to gain! Come see why when you're with McGrath, you're family!
Apply Now with the McGrath Family of Dealerships!
To inquire about available positions or for additional information, contact Jaymie McGrath by calling (319) 393-6300 or get started below. All correspondence held completely confidential.
Apply Now