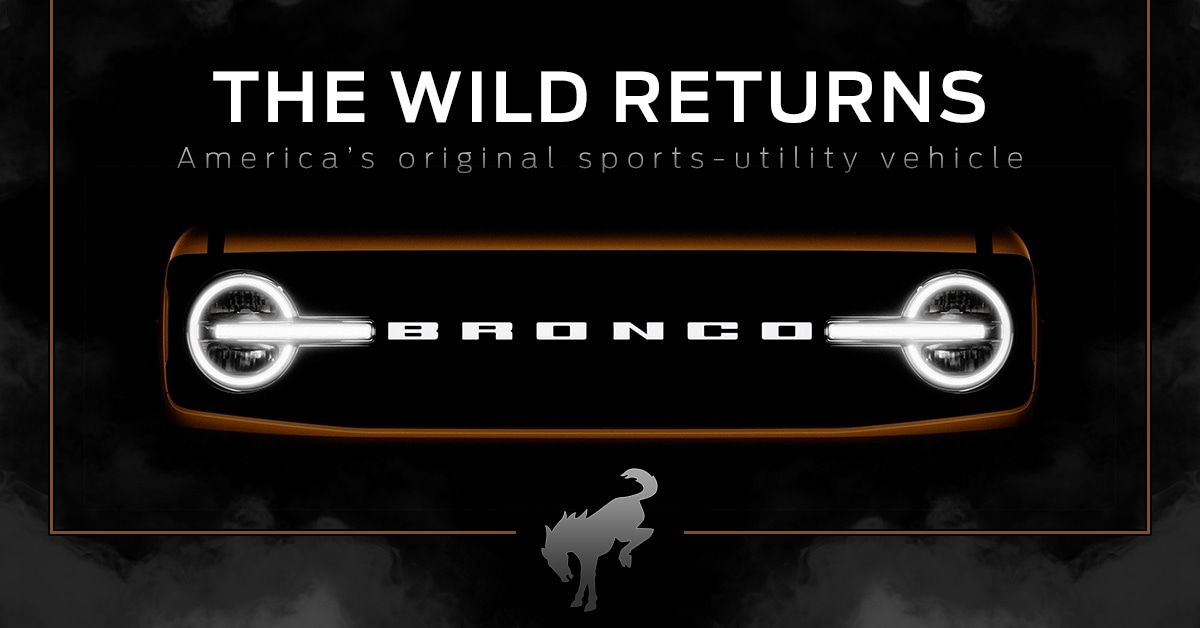 The Bronco is Back
The legendary Ford Bronco returns for the first time since 1996. Holding true to its wild roots, the all-new 2021 Ford Bronco is built for adventure, tested under the most grueling conditions and carries on the historical, iconic design that's thrilled drivers for generations.
To reserve yours right now, get started by selecting your preferred Bronco model.
2/4 Door Bronco
Bronco Sport
Three's A Family
The Ford Bronco is back with three SUVs to choose from. Each one is built with the capabilities to handle any terrain your adventure takes you on. Choose from the Ford Bronco traditional two-door, all-new four-door, or sport.

Built For The Wild
Built Ford tough, the Bronco has been tested in the most grueling conditions and on every type of terrain. The Bronco is the future of off-road 4x4 SUVs, leading its class in both capability and suspension. Loaded with all-terrain tires, exclusive adventure-inspired technology, the Bronco is will thrill on and off road.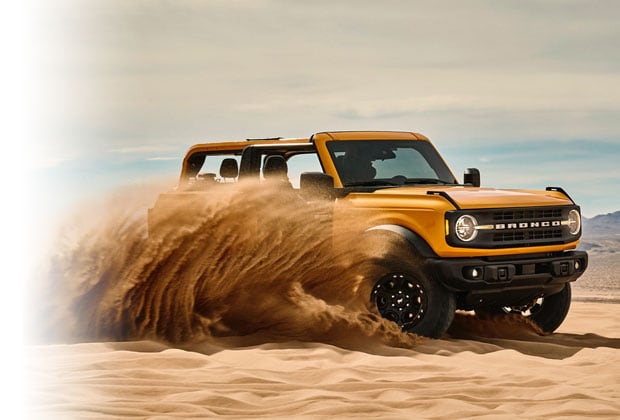 Vehicle Shopping Your Way
Have a question or need some assistance reserving your new Bronco? McGrath is always here to make things easy. Give us a call or reach out through our online contact form and get answers straight to your inbox!
Contact McGrath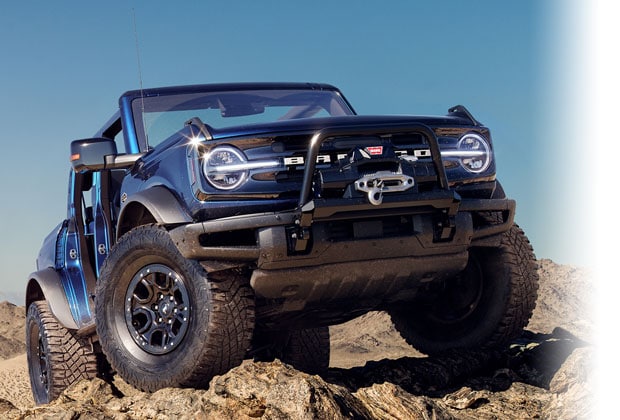 Iconic Design
Ford has brought back the iconic looks of the Bronco by integrating the signature round headlights, horizontal grille and clean body design. More information is yet to come on the full exterior and interior design of the 2021 Ford Bronco.
Online Bronco Reservation FAQs
What is a reservation?
A reservation lets you select your vehicle and be among the first to order a new Bronco or Bronco Sport from Ford with a refundable reservation deposit. It is not an actual order and does not guarantee delivery.
What steps are required to complete my reservation?
Go online and select your preferred configuration, create a Ford Account, select your preferred dealer and enter your credit/debit card details and address. A confirmation receipt will be sent to the email address you provide.*
What is a Ford Account and why do I need one?
A Ford Account lets you sign into the Ford website to save and manage your personal and reservation information. You need to create a Ford Account to reserve your Bronco or Bronco Sport. Reservations can also be tracked in your Ford Account at owner.ford.com/.*
Can I select any Ford Dealer?
Only Ford Dealers who are eligible and have activated online reservations can be selected. The eligible dealers will be provided based on your ZIP code, or you can enter the name of your favorite Ford Dealer and will be matched to them.
Can I make changes to my reservation?
You will be able to make changes and complete your vehicle selection at the time you place your order.*
Can I cancel my reservation?
Yes. You can cancel your reservation at any time and receive a full refund.* You can do this in your account at ford.com. If for some reason you can't process the cancellation online, you can contact a Ford Customer Experience Representative at 800-392-3673 (Ford U.S.). After canceling, allow seven to 10 business days for the reservation deposit to be credited to your original form of payment. Once you progress from a reservation to an order with a dealer, however, cancellation requests would be at that dealer's discretion.
When can I order my vehicle?
You will be notified prior to when the Bronco or Bronco Sport ordering windows open to finalize and confirm your selection and agree on pricing with your dealer.
What happens to the reservation deposit once I order?
The reservation deposit will be handled by your dealer along with the other details of your vehicle purchase.* When will I take delivery of my vehicle?
You will be able to order your Bronco in late 2020. Production and deliveries will begin spring 2021. Bronco Sport will be available to order in summer 2020. Production and deliveries will begin late 2020. Once actual delivery times may vary based on vehicle model and configuration selected, residency and demand. Once your vehicle is scheduled, you will receive further notification.
Am I buying this vehicle directly from Ford?
No. The purchase agreement will be between you and the dealer, not you and Ford.
How many reservations can I make and can I transfer my reservation?
Up to two reservations per account. Your reservation number is assigned to you and cannot be transferred.*
Will you share my reservation information with my dealer?
Your reservation information will be shared with the dealer you select at the time of reservation. Please see our privacy policy at ford.com/help/privacy for additional information.*
DISCLAIMER: *By completing the Reservation Process, you are not ordering or purchasing a vehicle. Participation in the Program does not guarantee you vehicle delivery. Your Reservation does not guarantee a set price for the Vehicle.
2021 Ford Bronco

The 2021 Ford Bronco comes in an available two-door and four-door body style and seven trim levels to choose from. Each Bronco brings different features to best fit your next adventure. Select from the Base trim, Big Bend, Black Diamond, Outer Banks, Badlands, Wildtrak, or First Edition.
Best-In-Class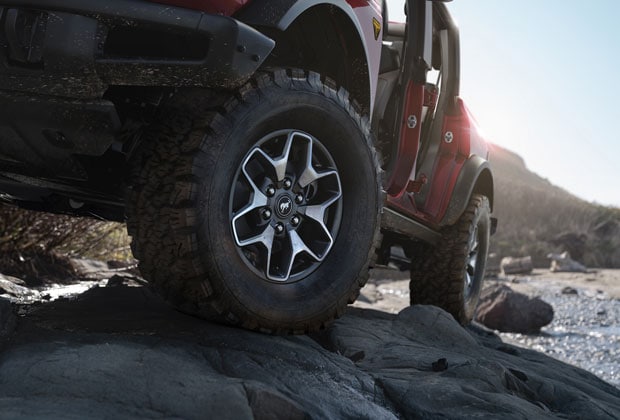 Departure and Breakover
The Ford Bronco is equipped with a 37.2 degree departure angle, a 29 degree break over angle, and has an available 43.2 approach angle.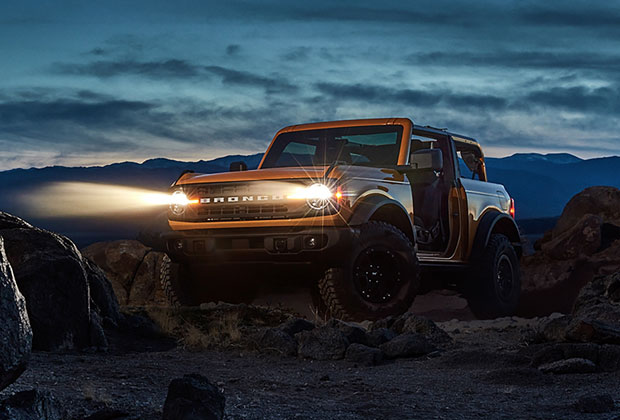 Ground Clearance
Paired with the best-in-class departure and breakover ability is the best-in-class ground clearance at 11.6 inches.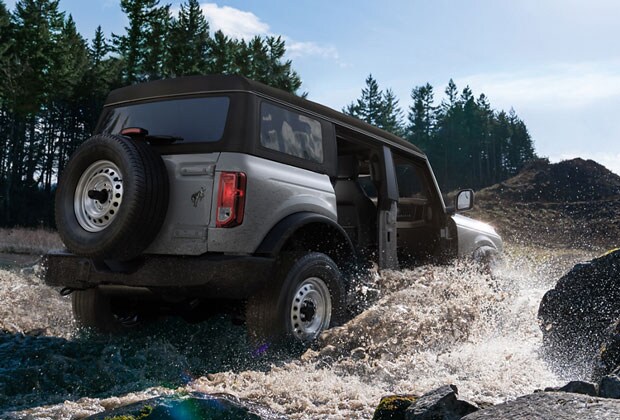 Water Fording
With the best-in-class water fording, the Bronco can driver through up to 33.5 inches of water.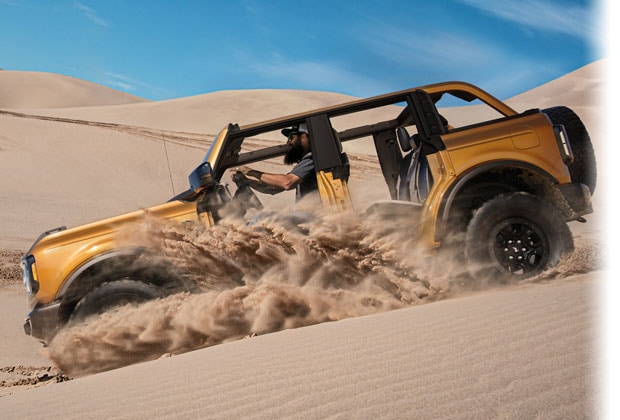 Built for Adventure
The 2021 Ford Bronco was designed with adventure in mind. Easily remove the roof or doors from Bronco for an open-air ride. Standard on the Bronco four-door models is a class-exclusive removable hard top middle for an open-air experience throughout the second row. There is also a soft top option on the Bronco.
Removing the doors is easy with the class-exclusive frameless doors. These doors are lightweight and easy to take off.
Modern Technology
The Ford Bronco is equipped with modern technology to keep you safe while on and off the trails. Inside the 2021 Bronco is a touchscreen with an available off-road navigation. The class-exclusive electronic trail navigation system provides trail guides at your convenience.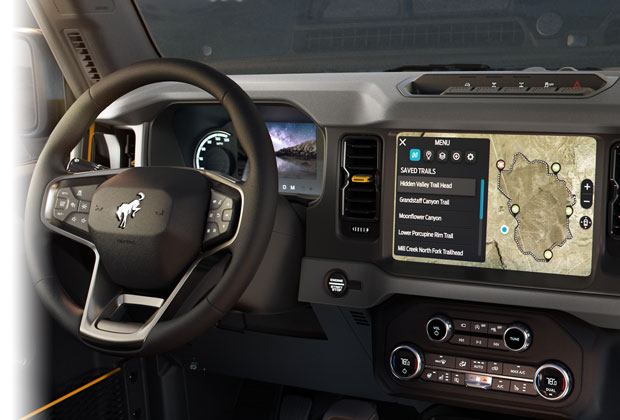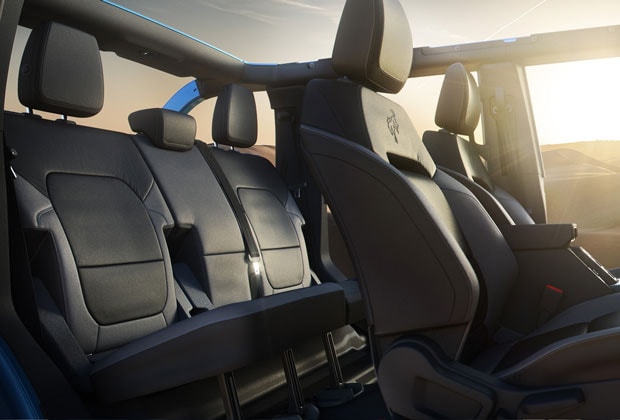 Interior Seating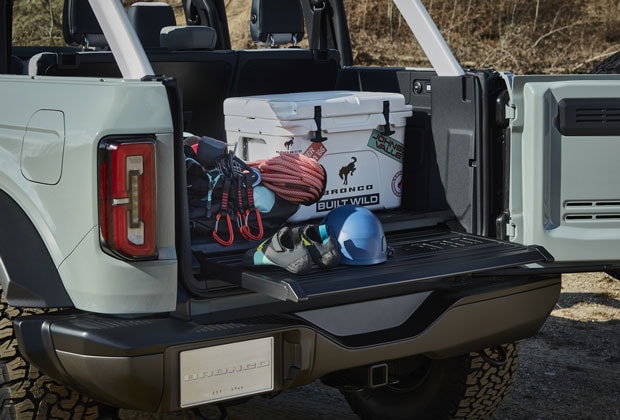 Slide Out Tailgate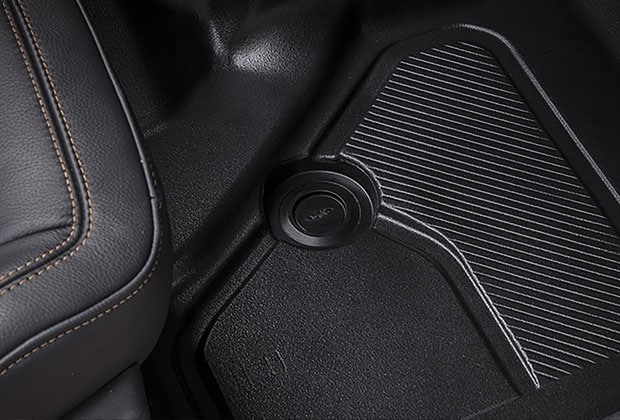 Easy To Clean Floors

2021 Ford Bronco Powertrain
The 2021 Ford Bronco comes with available best in class, race-proven EcoBoost engines paird with segment first technology. Choose between the six-cylinder 2.7L EcoBoost with 4x4 that can produce up to 310 horsepower and offer 400 lb-ft of torque, or the four-cylinder 2.3L EcoBoost engines that delivers up to 270 horsepower with 310 lb-ft of torque. For the first time in its segment, the Bronco has a seven-speed manual transmission that is paired with the 2.3L engine. The manual transmission features a unique crawl ratio of 94.75:1. Another segment first the Bronco has is the 10-speed transmission.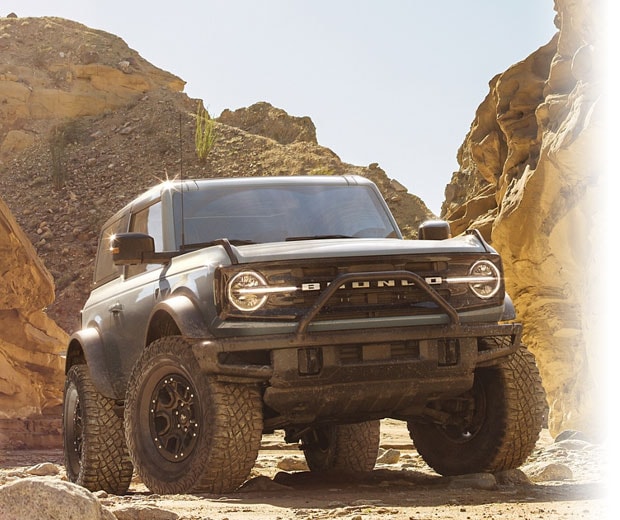 G.O.A.T Modes
The 2021 Ford Bronco comes with a Terrain Management System paired with G.O.A.T Modes to tackle any terrain nature throws your way. Adjust your drive mode to:
Sand
Slippery
Sport
Eco
Normal
Mud/Ruts (Badlands trim)
Rock Crawl (Badlands trim)
Sport (Baja trim)
Order Your 2021 Ford Bronco Today!
Inventory is limited and available through reservation only, so you have no time to lose! Claim yours right now by getting started below.
2/4 Door Bronco
2021 Ford Bronco Sport

The 2021 Ford Bronco Sport is the ideal family Bronco. Comfortably seating up to 5 passengers, 65.2 cu. ft. of cargo space, and all the advanced 4x4 off road capabilities guarantees that you and your family will have a comfortable yet adventurous ride. Choose from five available trim levels all with their own unique features and looks to fit your personality.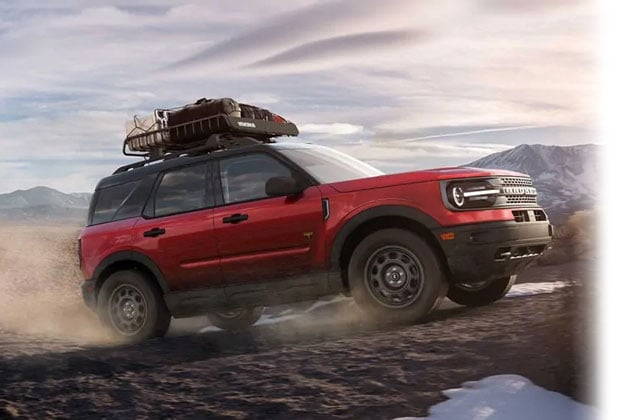 Ready for Adventure
The Ford Bronco Sport makes traveling easy with available accessories such as an additional strap storage system in the rear seats, a cargo management system that converts into a shelf unit, and rear floodlights that are attached to the tailgate to illuminate any task at night.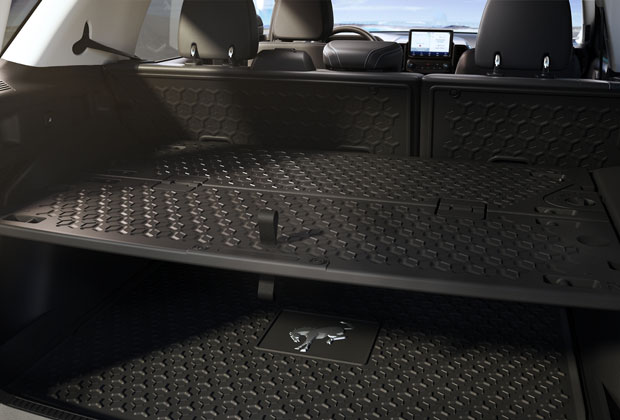 Cargo Management System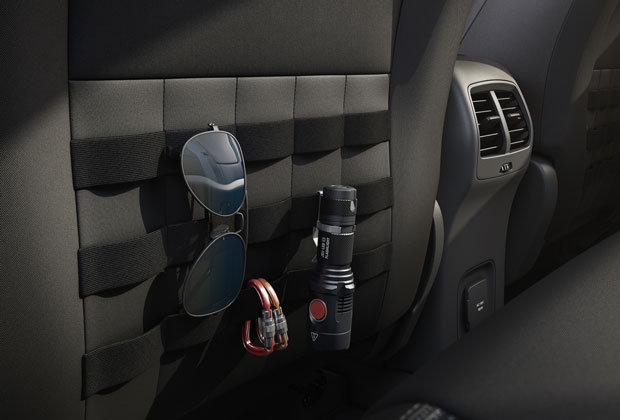 MOLLE Strap System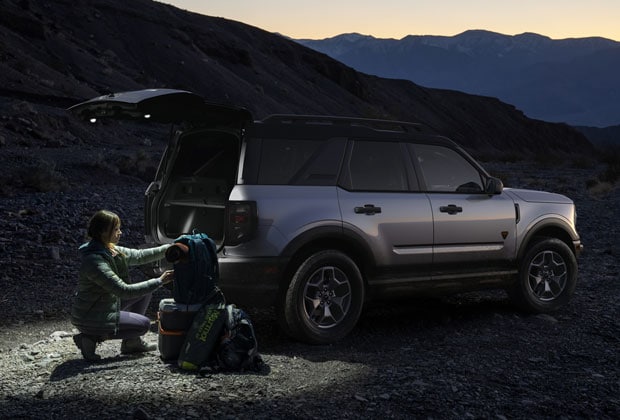 Rear Floodlights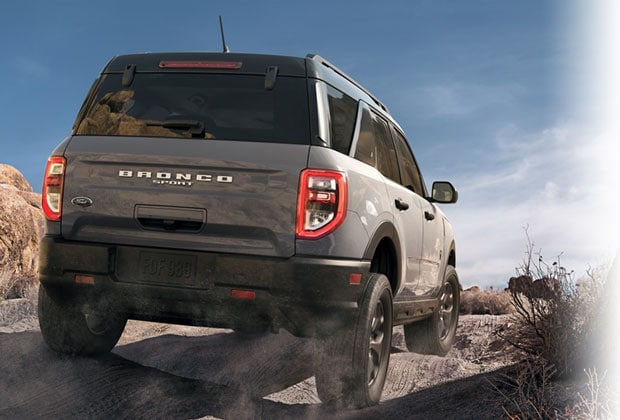 Ready For the Wild
The Bronco Sport comes with two engine options to choose from, the 1.5L EcoBoost, or the 2.0L EcoBoost. The 1.5L engine produces up to 181 horsepower and 190 lb-ft of torque while the 2.0L engine produces a best-in-class 245 horsepower and 275 lb-ft of torque. Just like the Bronco two-door and four-door, the Bronco Sport comes with the select terrain and G.O.A.T modes to help you tackle any terrain nature throws your way.
Technology
Available in the 2021 Ford Bronco Sport is the 8-inch touchscreen display paired with SYNC 3 and a voice-activated navigation system. With SYNC 3, easily use the voice command featured to access information about traffic delays, alternate routes, weather, and more. Available in the Bronco Sport is a heated steering wheel and digital cockpit display.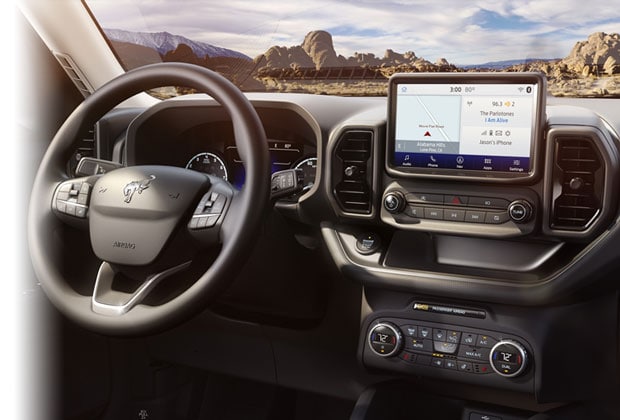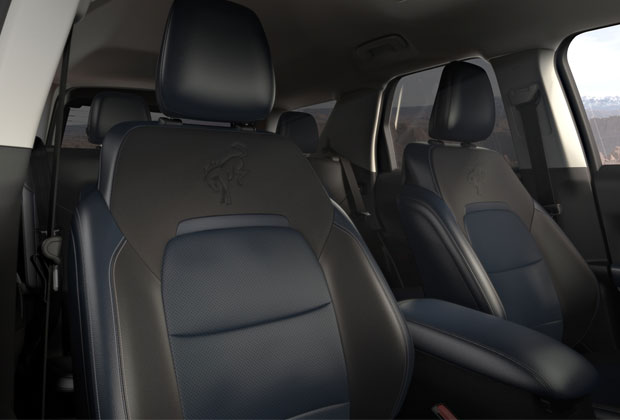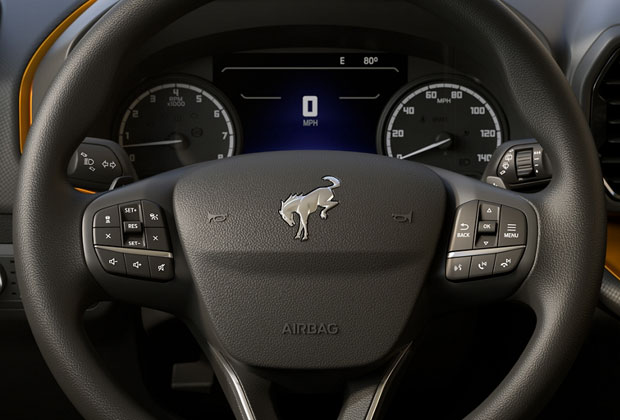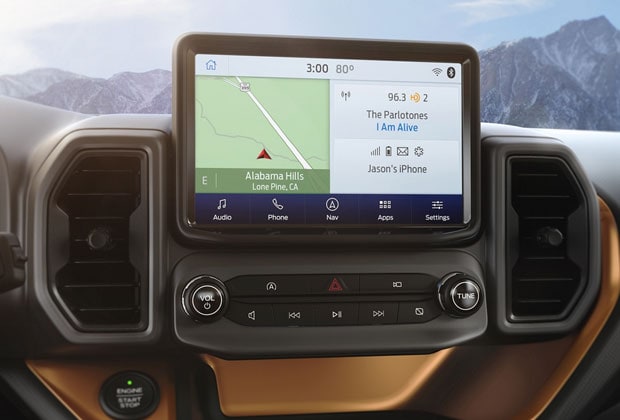 Order Your 2021 Ford Bronco Sport Today!
Inventory is limited and available through reservation only, so you have no time to lose! Claim yours right now by getting started below.
Bronco Sport

The Ford Bronco was first introduced into production in 1966. Prior to that, the Bronco was modeled after the tough WWII Ford military vehicle. From 1966 until 1996, the Bronco was a favorite among adventure seeking families. Learn more about the history of the Ford Bronco.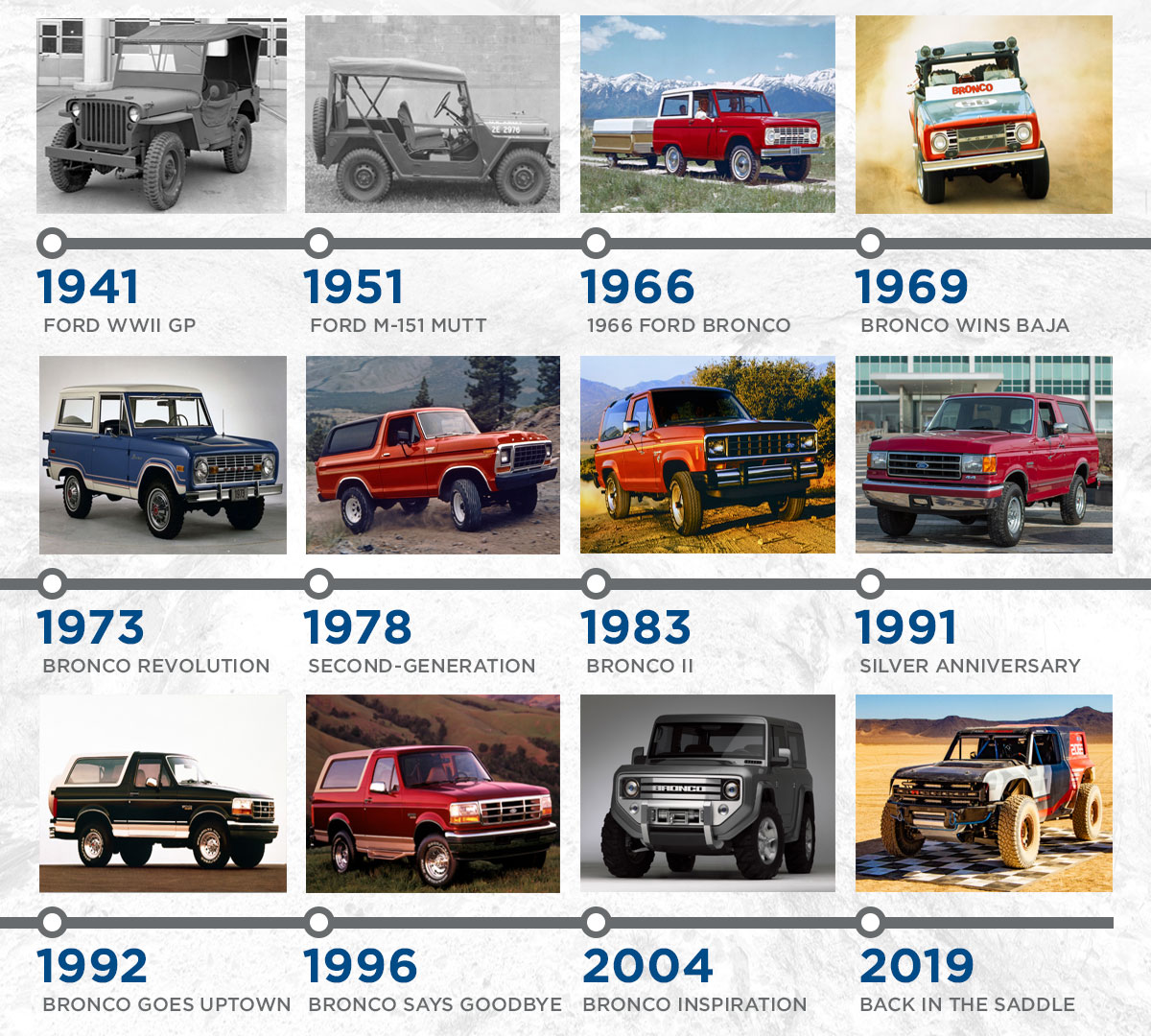 Order Your 2021 Ford Bronco Today!
Inventory is limited and available through reservation only, so you have no time to lose! Claim yours right now by getting started below.
2/4 Door Bronco
Bronco Sport
Shop McGrath Ford in Cedar Rapids!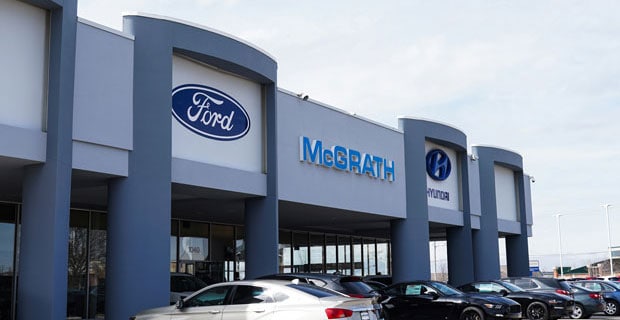 Get More with McGrath!
Our focus is simple. Ensuring the experience of choosing a new or pre-owned vehicle is fast, fun and easy for our guests. With one of the largest selections in the midwest, we know you'll find exactly what you're looking for at a price you can afford. Come stop in for a visit today or order your brand new 2021 Ford Bronco online! You always Get More with McGrath!