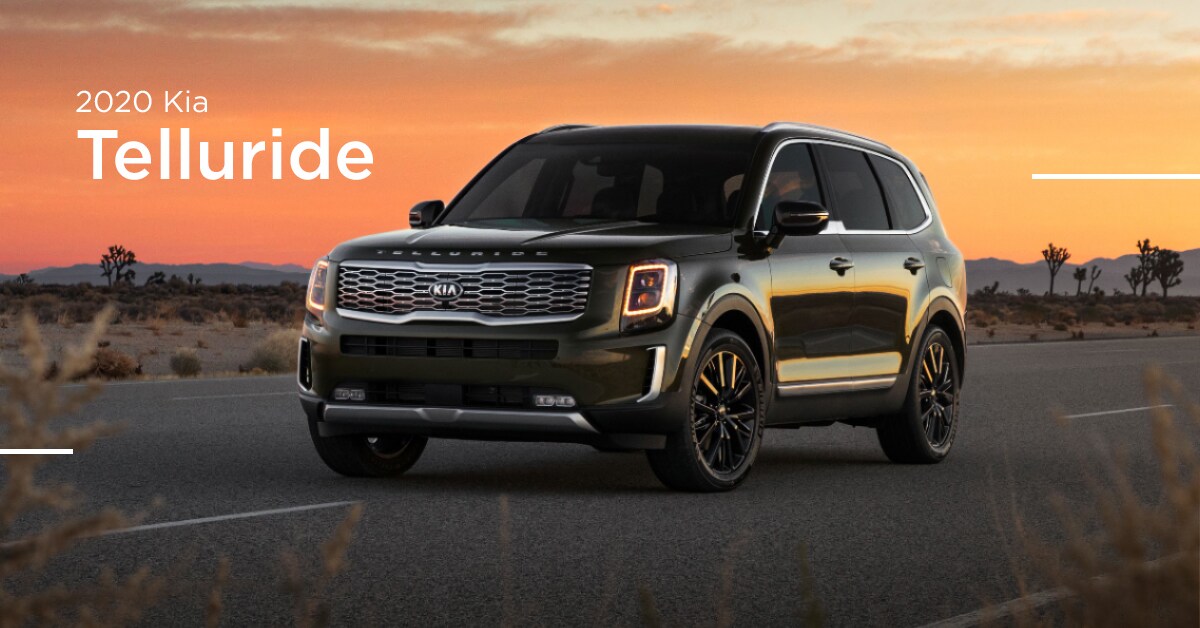 The Brand New Kia Telluride
This is not like any Kia to come before it. The 2020 Kia Telluride promises to be an excellent SUV that combines proper space for a 3rd row along with the best technology Kia has to offer and style that will make it stand out from other SUV's in this class. Put simply, it looks great and has all the features to make it the perfect all-around SUV.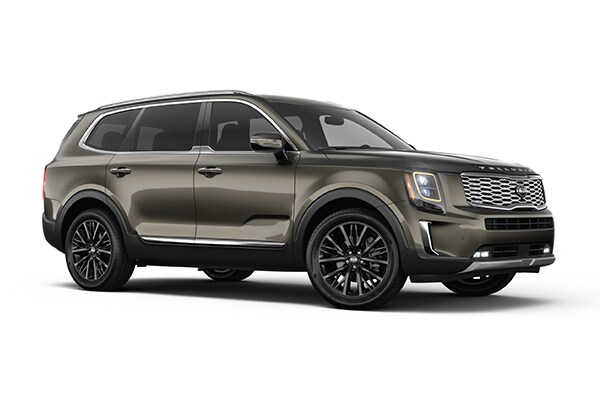 American-Made Masterpiece
With the addition of Telluride, Kia adds its largest SUV to date and offers customers a great all-around vehicle for a variety of lifestyles. Whether you are looking to shuttle the kids and their friends around town or go on long wilderness adventures, the Telluride can get you there. All of this manufactured here in America in West Point, Georgia.

Head-Turning Style
The 2020 Telluride has a well designed exterior that perfectly combines sporty and sophisticated into one attractive package. The Telluride is a few inches wider and higher from the ground compared to the Sorento meaning it has a good ground clearance, enhanced by lower plates and the rear skidplate.
Sleek Front Grill
The front of the vehicle leads with a wide, sleek grill and a broad hood with a raised center section that features bold leading lines. The grill is paired with stacked LED headlamps and narrow fog lights located under the grill on the bumper. The front headlights have a distinct shape and running light that gives the front of the vehicle a very modern feel.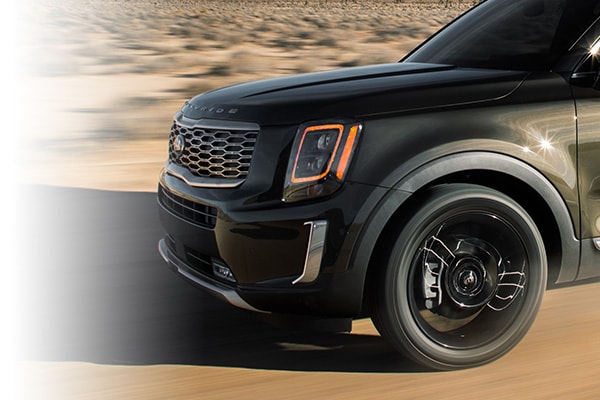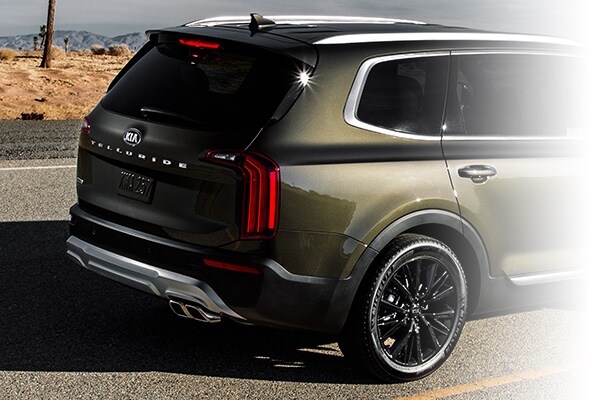 Function and Style
At the back, Kia went with a sportier looking tailgate and distinct L-shaped taillights that are sure to make the Telluride stand out from the crowd. The rear bumper has a large skid-plate that pairs form and function and provides more off-road maneuverability while also looking great.

Roomy Cabin
This 2020 Kia SUV is quite big and you will find it comfortable when it comes to space.The interior provides good headroom and leg space in all three rows allowing every passenger to ride comfortably even on longer adventures. The new Kia SUV also promises to offer 21 cubic feet of luggage space with all three rows in place an if you fold the third row, the SUV's space goes up to 46 cubic feet which is a big step up from its smaller cousin the Sorento.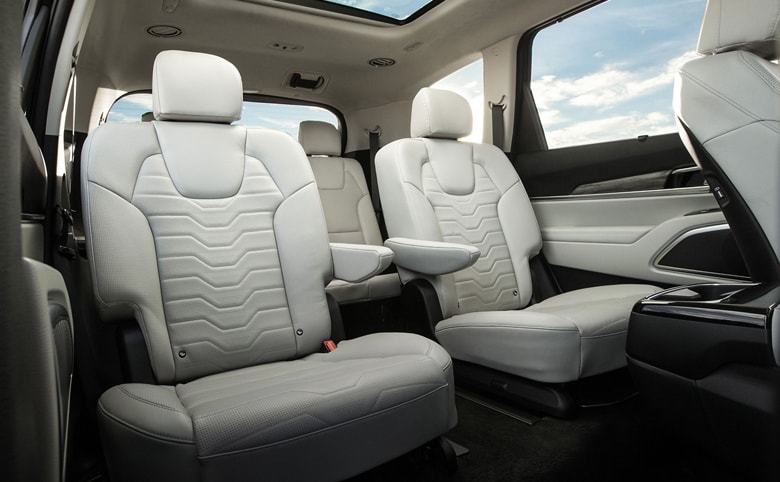 The interior features a simulated metal and matte wood that gives it a premium appearance and feel. Double-stitched and extra-padded leather upholstery is optional to give it top-notch quality. You can also add heated and ventilated front and second-row seating as well as heating for the steering wheel.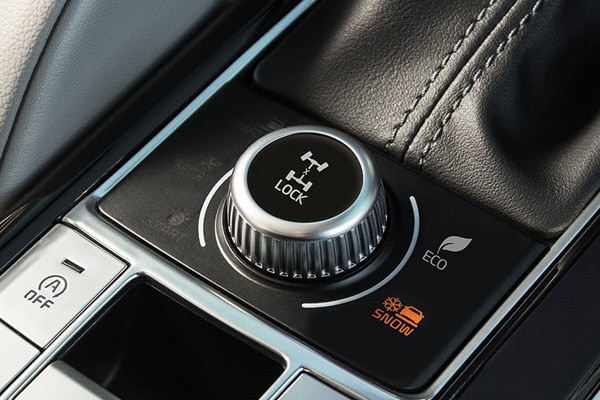 High Tech Options
Higher trim levels also offer great additional features. These include a 10.25-inch infotainment display unit with rearview monitor and parking guidance, remote start and door locking system, pre-condition cabin temperature, wireless phone charging, and a 10-speaker audio system.

Safety at Your Fingertips
The new Kia SUV is advertised to have the following safety features. An extensive list of airbags including dual front airbags, seat-mounted side airbags for the front seat, side curtain airbags and driver's side knee airbag.

The Telluride also has a long list of available safety tech to keep you and your family safe. These optional features include forward collision warning, lane departure warning, blind-spot warning, smart cruise control with Stop & Go, parking assistance and cross-traffic collision avoidance. All of these bring new advancements in vehicle technology to help keep you safe on the road.

Performance in any Weather
It comes with a 3.8-L 'V-6' engine. that generates 291 hp and 262lbs of torque. It has a 4WD, independent suspension system that puts it in the category of larger SUVs. The rear suspension also has a self-leveling feature that gives it more stability. The AWD manages torque equally between the front and rear wheels through an electro-hydraulic system to improve traction.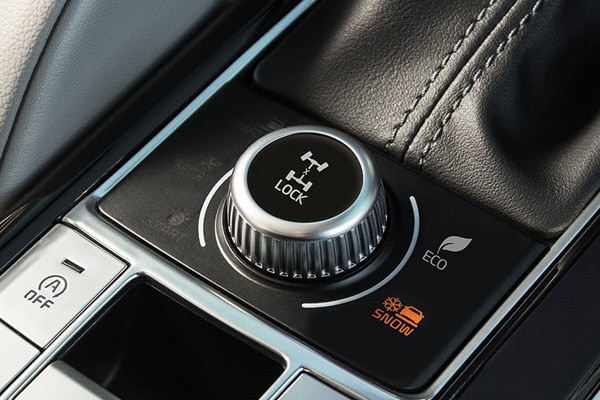 Select Your Drive Mode
The new Telluride also offers ECO, Smart, Comfort, and Snow drive modes, each one dividing the power to the front or back of the vehicle to optimize performance in all conditions.


Get More With McGrath!
It's easy to see why Kia is on the rise. In addition to offering one of the hottest car brands on the market, McGrath Kia also offers a huge selection of over 1,500 used cars of every make and model, ensuring you'll find the car you're looking for! In addition to our incredible selection, we here at McGrath Kia pride ourselves on getting every shopper who walks through our doors auto loan approval. Whether you have bad credit, no credit, or are a first time car buyer, no one works harder to get you approved for your auto loan. We want you to drive off our lot in the car of your dreams, at a price you can afford!
What Our Customers Are Saying:
Best car buying experience I've had! The salesperson, Lindsey Butterfield, responded promptly to all my questions, was friendly, knowledgeable and did not pressure me. He delivered the car right to our hours (2 hours away!), worked with my schedule, and provided information and photos over email or phone. Lindsey was great! Thank you!
Gesine Gerhard
Hiawatha, IA
I have always enjoyed my experiences at Kia. I loved buying my first car at Kia and I feel respected when I take my car in for service. They educate and explain well and don't suggest services that aren't necessary. They go above and beyond to make sure they offer the best service available. I will definitely be back to McGrath Kia!
I was working with Sean from McGrath Kia on finding me a nice Jeep Wrangler. He was extremely prompt on replying. Sean has an extremely efficient process and found me exactly what I was looking for. Buying vehicles is definitely not my favorite thing to do but he made the process very enjoyable. I really enjoyed working with him and all of my friends and family will be using him in the future.
Mack Pilarczyk
Hiawatha, IA