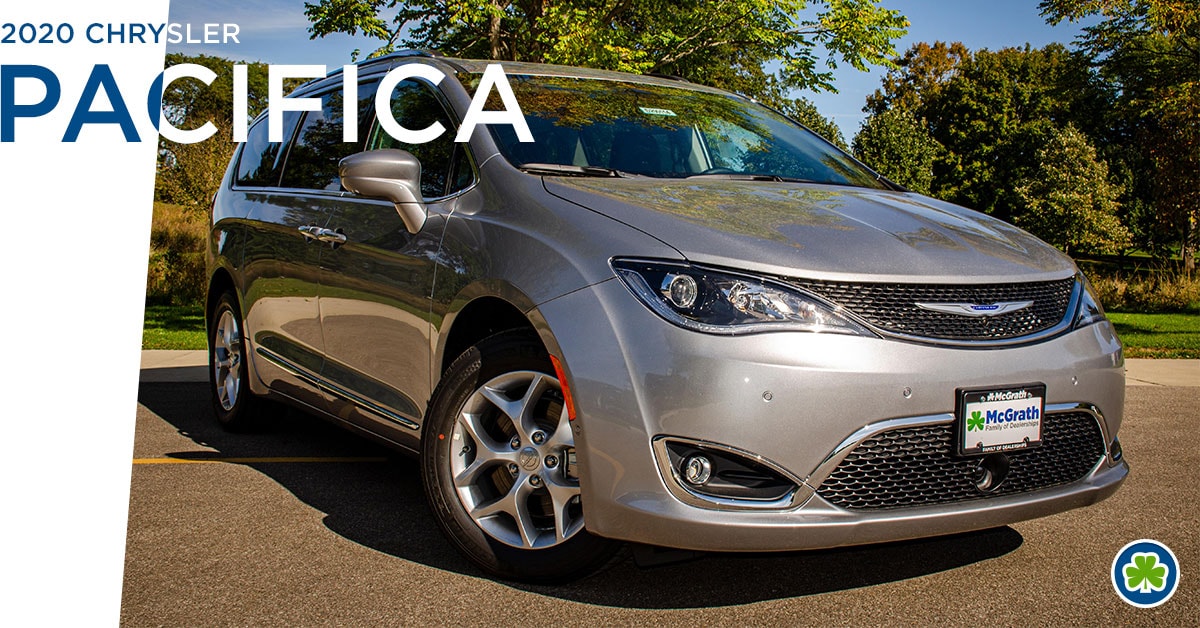 Introducing the 2020 Chrysler Pacifica
Modern Capability
The Chrysler Pacifica has been building a strong and loyal fanbase due to its reliability and use of the newest technology to improve convenience as well as safety. The 2020 Pacifica will surprise you with new improvements made to standard active safety technology that will bring you peace of mind. The Pacifica can handle the harsh Iowa winters and take your family on great adventures all year round. Take a look around the spacious and simple design of the 2020 Pacifica and see why parents are enjoying this van so much.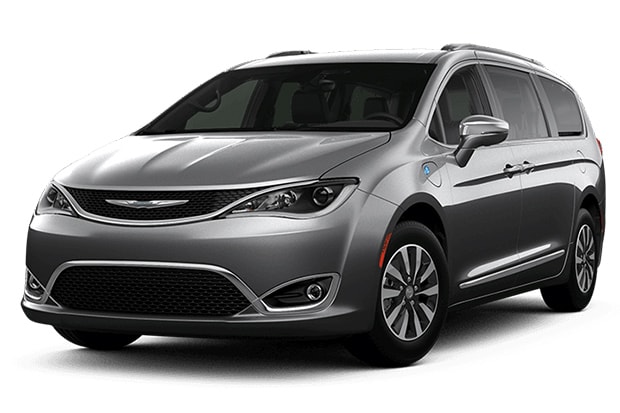 Exterior

Sleek Style
The Pacifica has a sleek design that makes use of long sweeping lines to give the van shape and personality. Drive away in style and safety in the 2020 Pacifica that pairs great looks with great functionality.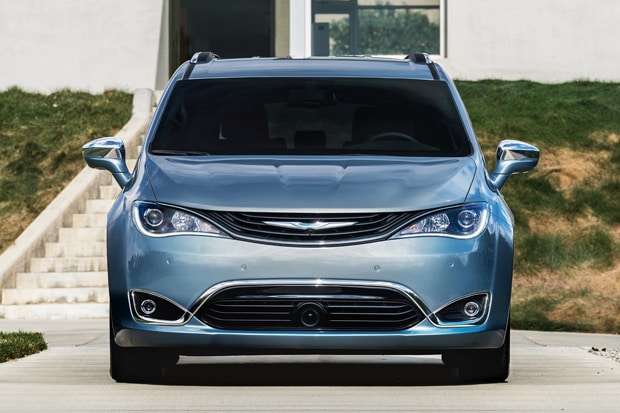 Modern Headlights
No need to sacrifice style when buying a van. The Pacifica has an elegant style that is framed by long sweeping chrome accents that are truly eye-catching. The LED headlights also match the sweeping lines and help give the Pacifica a strong personality.
Sleek From All Angles
The rear of the Pacifica is clean and modern with a modern design to the back window that make for a standout look. The LED taillights come standard to complete the sleek look.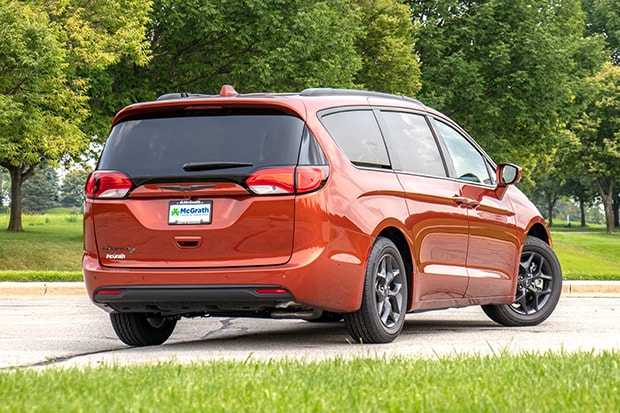 Interior

Modern and Comfortable
Step inside the Pacifica and be welcomed with a spacious and modern layout. Great usable space that is easy to navigate and comfortable materials to match gives the Pacifica a cabin that you won't mind spending extra time in.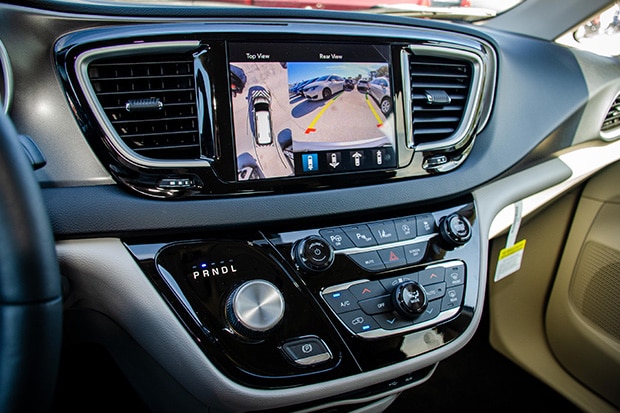 All The Newest Technology
In the center of the dash the Pacifica has a built in HD color touchscreen infotainment center with Apple CarPlay and Android Auto. Listen to all your favorite tunes through your device or connect to the available wi-fi and let the kids stream their favorites.
Comfortable and Durable
Chrysler gives customers a wide range of material options to choose from. The lineup features some two-tone designs that have a bit more of a modern feel as well as some dark vented leather seating for more of an aggressive style.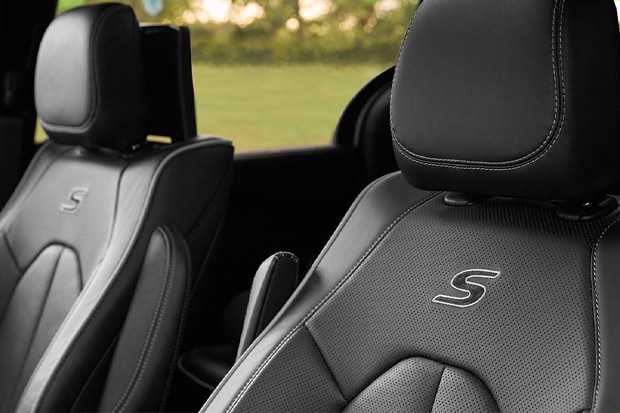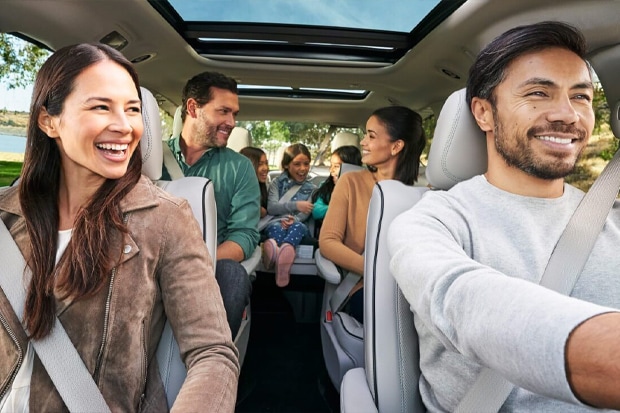 Spacious Cabin
Bring the outside in and upgrade to the available panoramic sunroof. The whole family can enjoy the cabin with great amounts of usable space and easy in-and-out designs. Pile in all your sports gear and extra junk, the Pacifica has fold-flat seats that make great use of space.
Get Behind the Wheel!
Get a look at the new modern design of the 2020 Chrysler Pacifica and test drive to feel the performance improvements for yourself! Our experienced staff will answer any questions you have and help you find the perfect car for you.
Pacifica Inventory
Need Help? Contact Us
Performance

Capable and Trustworthy
Enjoy all the versatile ways to make the most of your Pacifica. The van has best-in-class trailering capacity to pair with a number of impressive performance features. Take a look for yourself.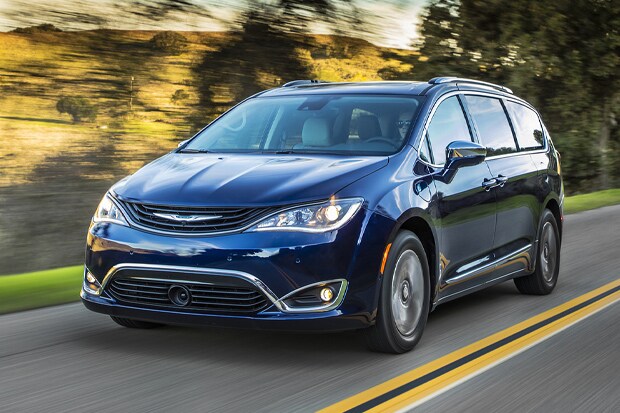 Standard Electronic Stability
Engineered to keep your passengers safe, the Pacifica comes with advanced technology to ensure traction at all times. The electronic stability control system applies selective braking and throttle control to help you maintain control when things get slick.
The Perfect Family Car
Comfort and smoothness are the first words that come to mind when describing the ride-quality of the Pacifica. High-end suspension gives the ability to float over the road even in rough conditions. The Pacifica has it all. The space, style, and performance to get you to your next location safely.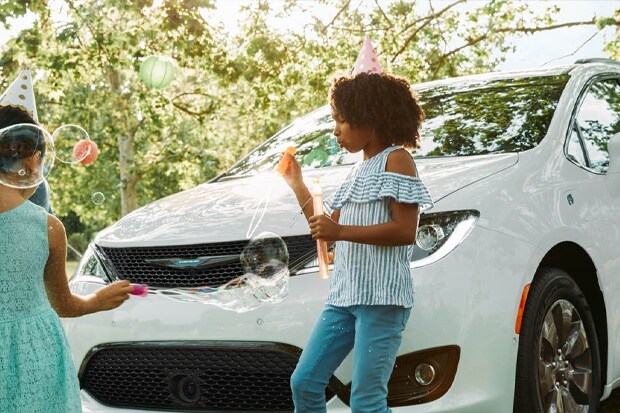 Safety

The Newest in Active Safety Technology
The Chrysler Pacifica comes with a long list of available safety features including; Rear and Front Park Assist, Rear Cross Traffic Warning, Lane Departure Warning, Blind Zone Detection and Forward Collision Warning. An intelligent airbag system is built throughout the cabin to protect all passengers.
Shop McGrath Chrysler Jeep Dodge Ram in Cedar Rapids!
Get More with McGrath!
Here at McGrath Chrysler Jeep Dodge Ram our focus is on making the customer's buying experience being fun and easy. We pride ourselves in our large selection of new and used cars, trucks and suvs. Come stop in for a visit today and let us help you find a car that fits your lifestyle! You always Get More with McGrath!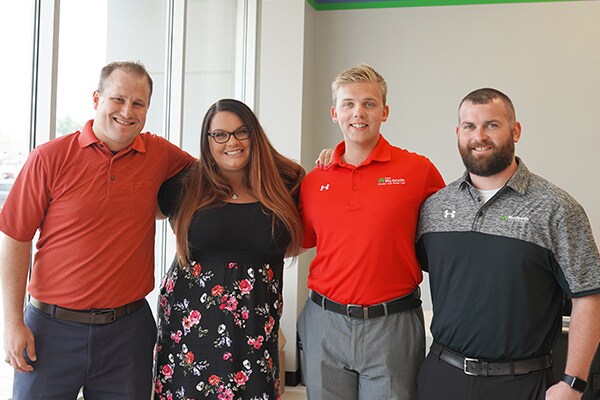 What Our Customers Are Saying:
My husband Dan Kinney purchased a 2016 Jeep Wrangler from Justin Powrie and we are 100% satisfied with the purchase. They went above and beyond what we ever could have expected. We went in "hoping" to come back out with the Jeep and they made it happen! Justin along with his team made us feel at home and they were great with my child. We would definitely recommend anyone to you! We are so happy with how it all turned out! Thank you so very much! 5 stars for sure!!!!!
Whitney Kinney
Cedar Rapids, IA
finding my brand new Renegade was fun and a breeze with John at McGrath. he listened to what I wanted, acknowledged and kept my price point in mind, explained all sorts of details before, during, and after the test drive. he made the waiting process fun with easy conversation and was patient with me when I was making choices. the finance department was a lot of laughing, talking, and great explantion on coverage throughout the options McGrath provides. all together McGrath did a phenomal job for me and my brand new Jeep Renegade Roger. :)
Rachel Brinton
Cedar Rapids, IA
A week before we went I had called and set up an appointment to look at a few vehicles. The whole week I had spent countless hours looking over their used section trying to find something with low miles and fit the pretty strict requirements of what I wanted in my car, since this was the first time I had gotten to go without my family there to decide for me. We arrived and immediately approached by Hunter, who began to get a feel for what it was I was looking for. The car I had set my heart on was no longer there, but Hunter was nice enough to pull a car right off the show floor for me to try. I liked it, but I didn't LOVE it, and after some coaxing from my husband and Hunter, he rolled up in a 2016 Jeep Renegade. I loved everything about it, although it's motor size was a little small for my comfort. We took it out and fell in love with everything about it. My previous car that I used as a trade in wasn't worth much, but I had fully expected that and was happy to work out a deal that fit what I could afford and take home something SO much better than what I came there with. I've had my jeep almost a week and I am so happy with my choice, even though I fought tooth and nail about even test driving one. I went in refusing to even look at Jeeps, and now I own one!
TJ Kibbee
Cedar Rapids, IA