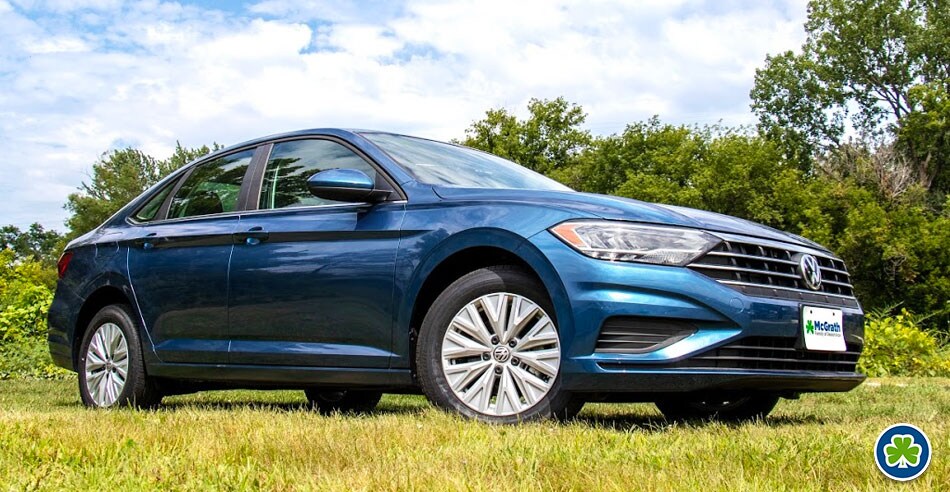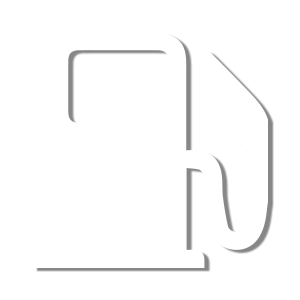 MPG
40 HWY
30 City
Available
1.4-liter Turbo
Engine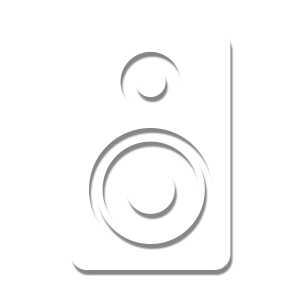 Available
Beats Audio
System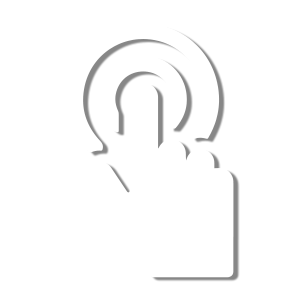 Available
Touchscreen Navigation
2019 VW Jetta
Jetta is back for 2019 with an all-new design aimed at impressing the most demanding car buyer looking for the best "bang for their buck". Packed with more standard features and inspired digital upgrades including its infotainment system and instrument cluster, the 2019 Jetta is poised to be a popular choice for drivers across Cedar Rapids and Eastern Iowa. You're sold, right? We have the one you're looking for at McGrath, but if you need more convincing, keep reading for more on the new Jetta!
Redesigned Exterior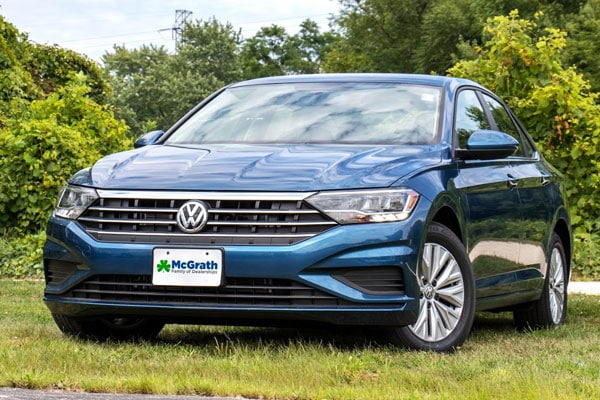 Premium Look and Feel
All the way down to the brake booster and master cylinder, nearly every part of the Jetta is new for 2019. It has also expanded in size from the previous model by about 2 inches in length and is nearly an inch wider. Reactive and immediate throttle response from its turbocharged inline four-cylinder, along with its wider base and decreased weight, give the Jetta the feel of a more performance oriented vehicle while providing exception ride quality and fuel efficiency.
Driver Focused Interior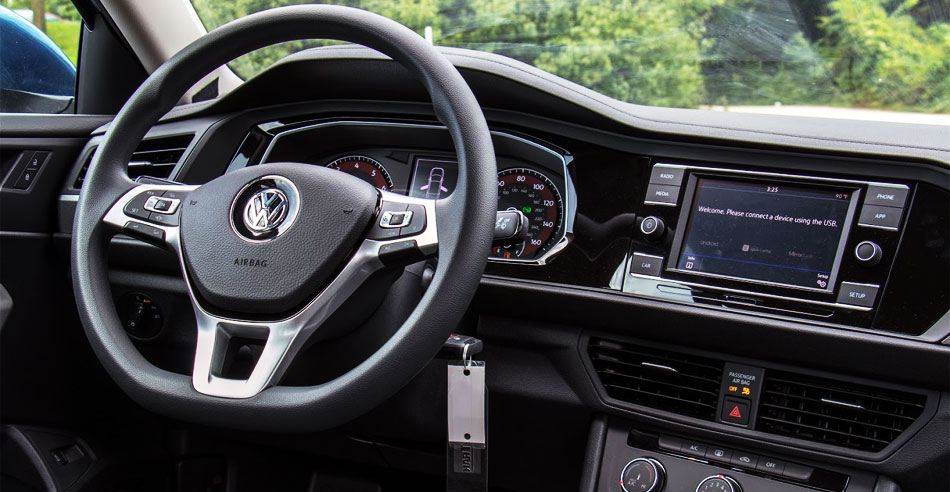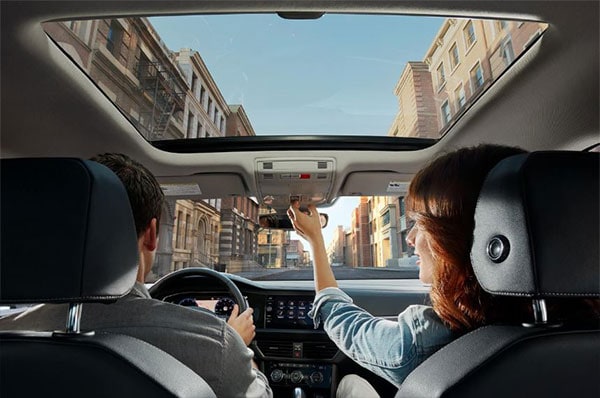 Just the Right Amount of Everything
The constant evolution in technology available in our daily lives has us all expecting a customized user experience and the latest advancements in everything from our phones to our coffee makers. It's pretty cool being on the cutting edge, right? With that in mind, Volkswagen is stepping up to the plate of this rapidly evolving world with the 2019 VW Jetta!
Technology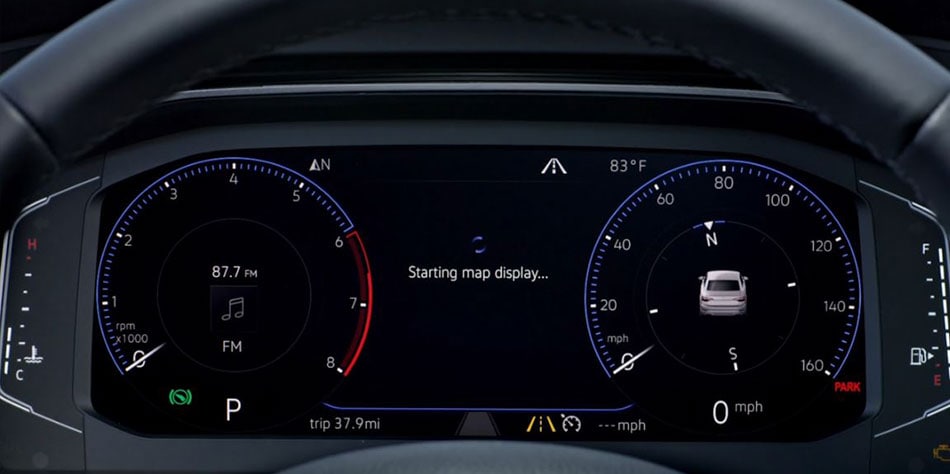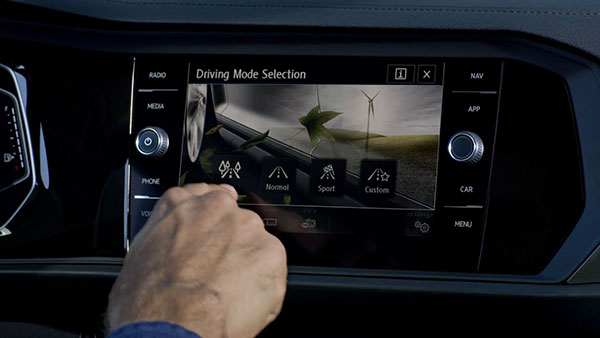 Breakthrough Technology
Available 10-color ambient lighting system, the Volkswagen Digital Cockpit that displays your fully customizable information in high resolution, lane assist and adaptive cruise control are some of the exciting features that define the 2019 Jetta as one of the most attractive and competitive options available. When you tack on America's best Bumper-to-Bumper 6 year/72,000 miles Limited Warranty, you have a sedan car shoppers in the Cedar Rapids, Dubuque and Iowa City region will be clamoring over! You make your own world in your own Jetta.
Shop Volkswagen at McGraths!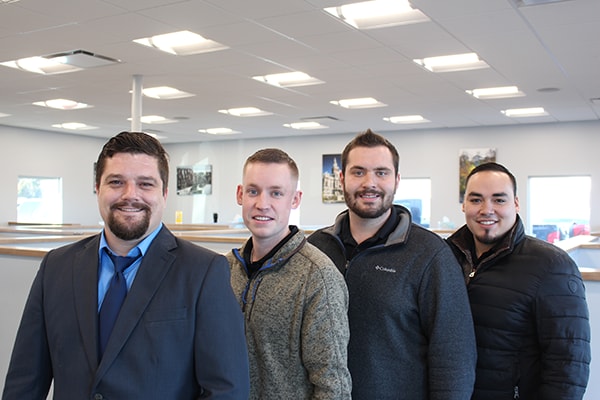 Come Visit Us!
We know how passionate Volkswagen fans are. It's not just a car, it's a lifestyle! That's why McGrath loves working with our Volkswagen shoppers and are thrilled to be your home for the new 2019 Jetta. The Jetta line has been one of the most popular vehicles offered on our lots ever since opening Volkswagen locations in Cedar Rapids and Dubuque and we're confident the 2019 will get you as excited as we are!
Our Dealer Locations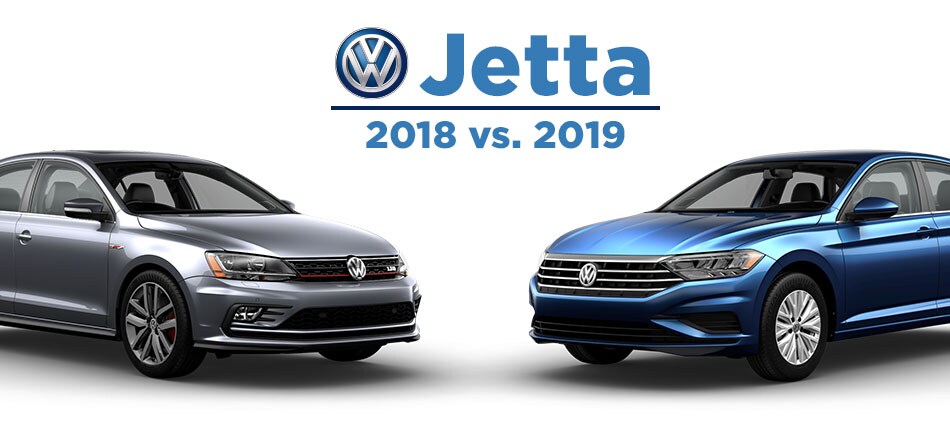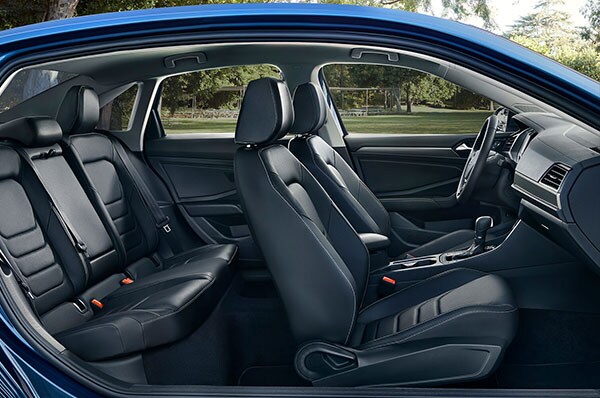 The 2019 Jetta starts out $100 less than the 2018 VW Jetta when comparing like models. That decrease is astonishing considering the 2019 has far more features and receives a modern design refresh, both inside and out. The interior cabin carries on the "good" of past models, but pushes into the category of "great" with marked improvements in the look of materials and overall fit and finish. The Jetta's cockpit feels polished with fine attention paid to every detail, making it worthy of a much higher-end vehicle. Its aforementioned digital cockpit cluster, coupled with the center information center, gives you full customization of how you want you information and navigation tools displayed. When it all adds up, it's pretty easy to see why Jetta stands out amongst its most notable competition from the likes of Honda and Toyota.
Betta Getta Jetta
| Features | 2019 Volkswagen Jetta | 2018 Toyota Corolla | 2018 Honda Civic | 2018 Chevrolet Cruze |
| --- | --- | --- | --- | --- |
| MSRP* | $18,545 | $18,600 | $18,840 | $18,525 |
| Bumper-to-Bumper Limited Warranty | 6 years/72K miles | 3 years/36K miles | 3 years/36K miles | 3 years/36K miles |
| EPA Estimated Highway Fuel Economy | 40 MPG | 36 MPG | 40 MPG | 40 MPG |
| Standard Torque | 184 lb-ft | 128 lb-ft | 138 lb-ft | 177 lb-ft |
| Post-Collision Braking | | | | |
| Forward Collision Warning | | | | |
| Blind Spot Monitor | | | | |
| Smartphone Integration for Android Auto | | | | |
| Turbocharged Engine | | | | |
| LED Headlights | | | | |
| LED Taillights | | | | |
| Alloy Wheels | | | | |
| Electric Parking Brake | | | | |
| Front Floor Mats | | | | |
Trim Levels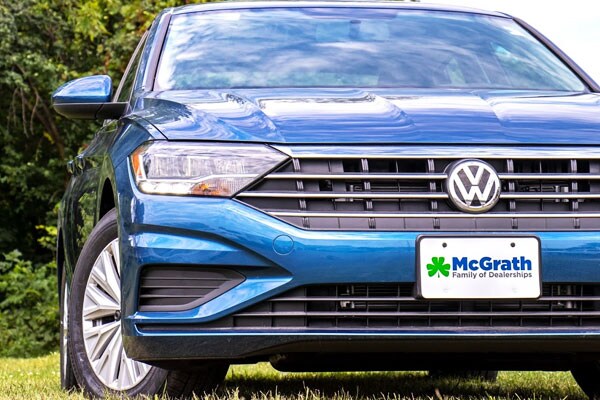 What Fits Your Style?
Volkswagen is a brand that seems to breed loyalty. Many looking for an entry-level sedan with a bold look and incredible value at a price that works with their budget find Jetta an irresistible combination. As their needs evolve, VW buyers tend to keep it in the family with upgrades to another VW sedan or SUV such as the Tiguan or versatile Atlas. That speaks to the overall satisfaction Volkswagen owners experience with their vehicles. With respect to reliability, value, fuel-economy and just straight-up "wow" factor, it's hard to view the 2019 Jetta as anything but an obvious choice for Iowa car buyers. To make it easier to select the best option package Jetta offers, VW has simplified the selection process.
Trim Levels
S - Key features include a rearview camera, Apple CarPlay™ and Android Auto™, a 6.5-inch touchscreen interface with Bluetooth® connectivity, and much more. Starting MSRP is $19,395.
SE - Key features include automatic climate control, a panoramic sunroof, keyless entry and ignition, a host of safety features, and more. Starting MSRP is $23,005.
R-Line® - Key features include custom R-Line exterior and interior accessories and decals including stitching, badging, and more. Starting MSRP is $23,804.
SEL - Key features include a 10.25-inch Volkswagen Digital Cockpit display, an 8.0-inch Composition Media touchscreen infotainment system with SiriusXM® and much more. Starting MSRP is $25,265.
SEL Premium - Key features include an 8.0-inch Discover Media infotainment system with navigation, sport comfort seats, and remote start. Starting MSRP is $27,795.
Features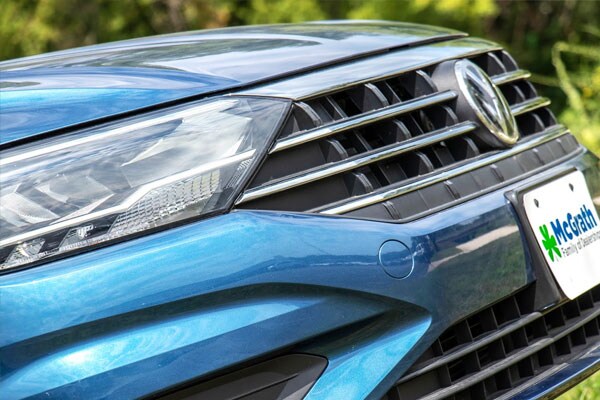 Standard
LED Tail Lights
LED Headlights
Bluetooth
Car-Net App Connect
Available
Ambient Lighting-10 preset colors
Dual Exhaust with Chrome Tips
Leather Seating
Ventilated Front Seats
Beats Audio
Panoramic Sunroof
VW Digital Cockpit
Drive Assistance Tech
What Our Customers Think
I had the best time buying my new 2015 Volkswagen Jetta from Sean Stokstad at the new McGrath Volkswagen location! I had someone rear-end me and total my car a few months ago and the vehicle I was currently driving was something I was mostly rushed into by insurance and didn't really want in the first place. When my fiance and I went to look at the Volkswagen Golf (which he ended up buying), we met Sean who was very knowledgeable about all of the vehicles. He stressed the importance of finding the car that was right for us and something we could love forever, not just trying to rush us into buying something. Now my fiance and I both have Volkswagens and couldn't have been happier with the service Sean provided us - and is continuing to provide us! I also enjoyed the financial/paperwork service I received from Devin Wright in the businesses offices as well. Thank you, McGrath!
Chelsey Caldwell
Cedar Rapids, IA
I can't say enough great things about my experience at McGrath Volkswagen in Dubuque. A huge "thank you" to George Stephenson, my sales rep, who is nothing but the top notch! Not to mention every McGrath employee I dealt with, from the credit department, to financing, to service after the sale. I purchased a 2016 VW Jetta. I am extremely pleased. You can tell this is a well built automobile from bumper to bumper. I would highly recommend anyone looking for a new or used vehicle to stop in to McGrath VW and talk with them. I sure you enjoy the experience. Professionals!!! Nice job everyone at McGrath!!