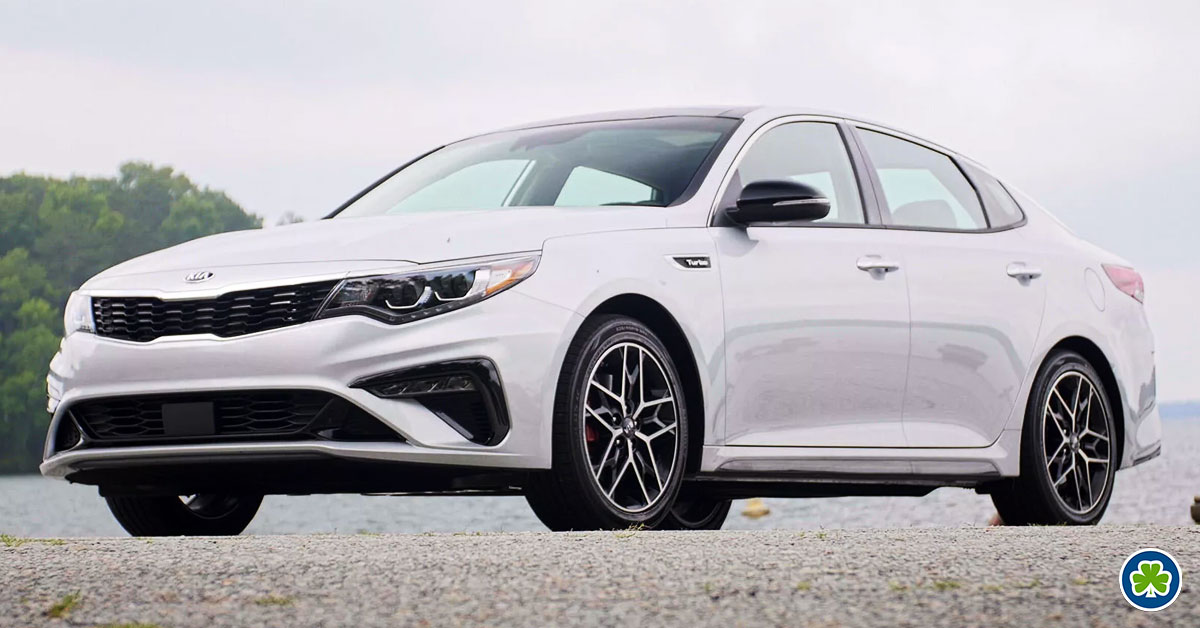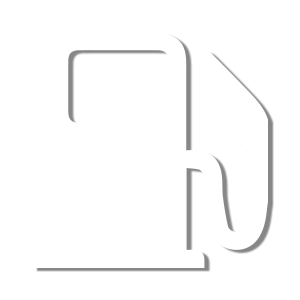 MPG
33 HWY
24 City
Standard
2.4L I-4
Cylinder Engine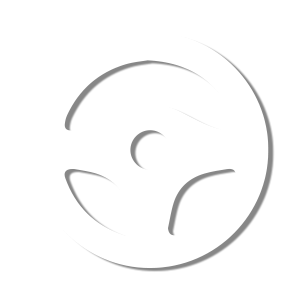 Standard
Dual
Climate Control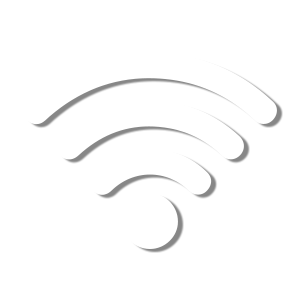 Standard
Wireless Phone Connectivity
2019 Kia Optima Available in Cedar Rapids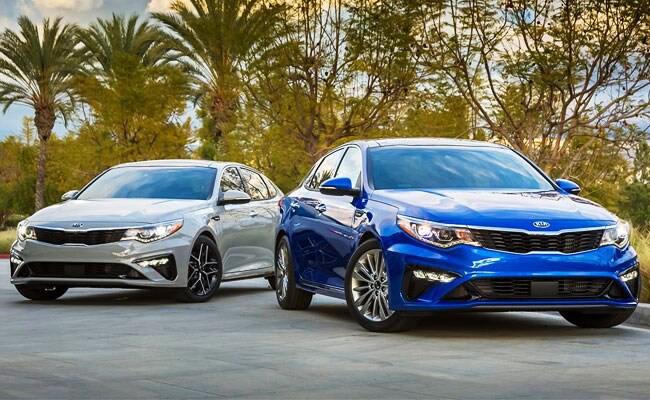 Rebuilt with Style
Introducing the all-new 2019 Kia Optima now available in Cedar Rapids, IA! This year's model makes its mark with the mid-sized sedans. Its new reclaimed exterior will be sure to catch everyone's eye! Customers will be lured in with available safety features, along with many other tech features. Don't wait to and come visit us at McGrath Kia!
Kia Optima First Take
Exterior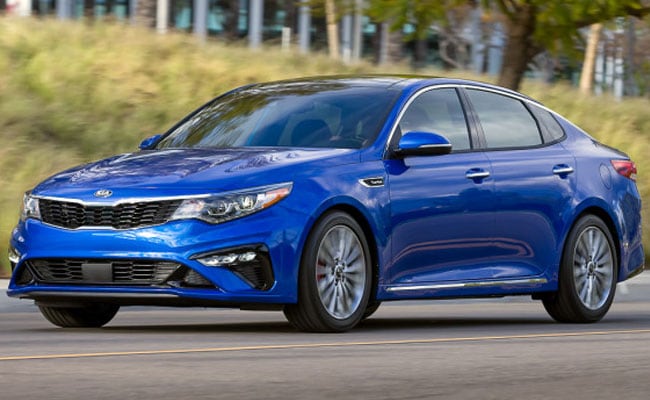 Sporty Profile
Back with a sporty new look, the 2019 Kia Optima's stylish exterior puts it at the top of the mid-sized sedan list. Newly added features include redesigned front and rear bumpers and redesigned LED headlights and taillights. Adding to its sporty look are the 16-inch polished black wheels, with higher trim levels their size ranges to 18-inches. With smart technology you will be able to approach your rear trunk and your smart key will automatically open the rear gate.
A Closer Look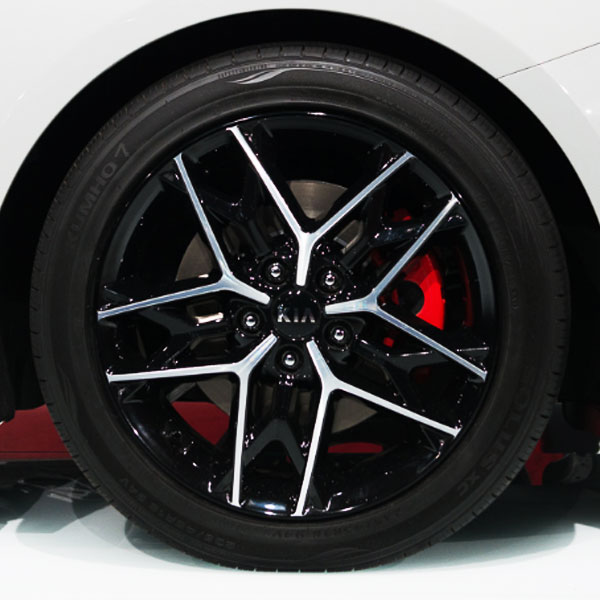 Wheels
These high gloss black finish 18-inch alloy wheels got a new design this year helping make the body style really pop! People will notice when you drive by!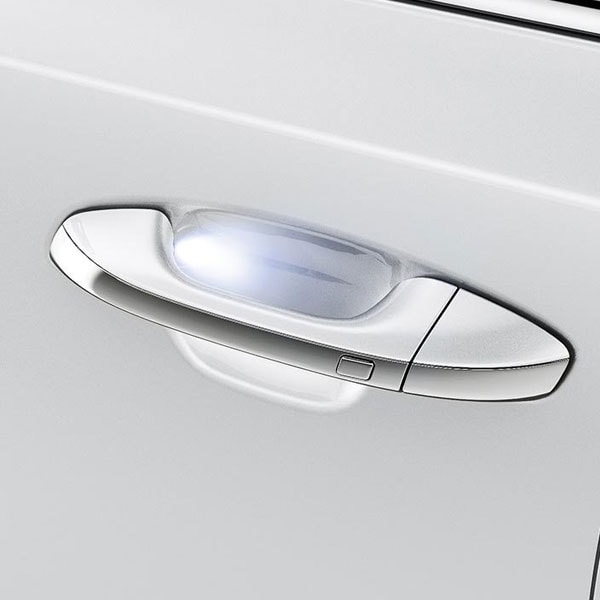 Smart Key
With Smart Key Technology, you can leave your key fob right in your pocket or bag to enter your vehicle. The car senses the key nearby and will open automatically.
Interior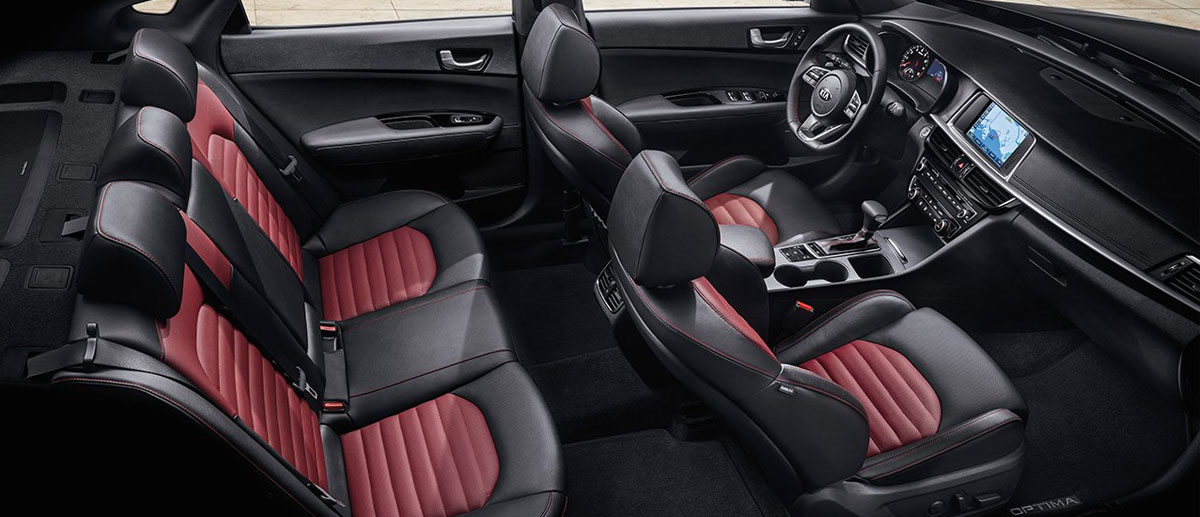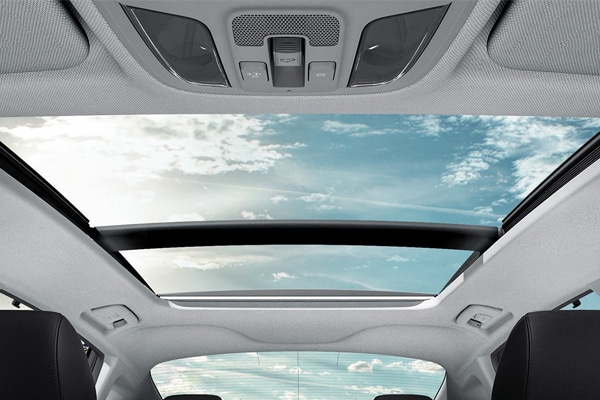 Comfortable Front Cabin
The 2019 Kia Optima is coming in hot this year with its new sporty interior seating. Jumping into the front cabin, the first thing you will first notice are the deep mounted racing type seats. Providing comfort and leg space, these seats come standard with cloth upholstery and leather with red stitching with higher model trims. The front cabin is luxurious but that back seat might not bit fit for everyone. With the exterior dipping down in the rear, this provides less head room for your passengers in the back. If you need some more head room you might be interested in a higher trim with the available moon roof
Tech Features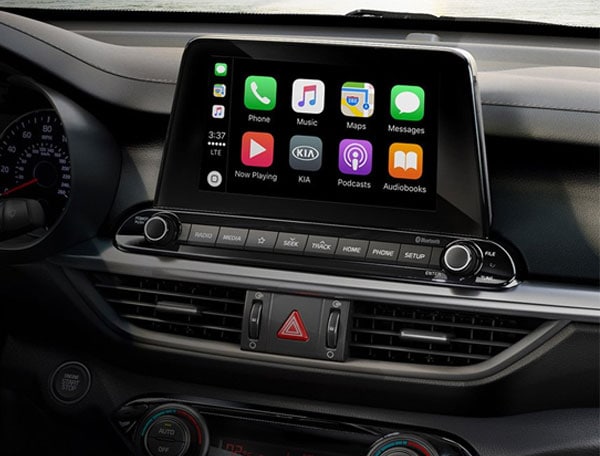 Satisfying Tech
With this year's new model, the 2019 Kia Optima won't disappoint with satisfying tech options on all trim levels. Starting with the LX you will get all the basic features such as, dual climate control, keyless ignition, 7.0-inch infotainment center with Apply Car Play and Android Auto. With higher trim levels you will be upgraded with a larger infotainment center, twin power sunroof, and heating and cooling front seats.
With its long list of features you won't want to miss out on this sweet ride! Too see more of what's available in the new 2019 Kia Optima, get in contact with our sales team!
Find Your Perfect Kia Optima
With the largest selection, hottest offers and a fun and friendly team to guide you through the process, McGrath Kia is the only choice when it comes to shopping for a new or used Kia in Cedar Rapids! Get started now by clicking the button below and shop our online inventory!
Shop Now
Performance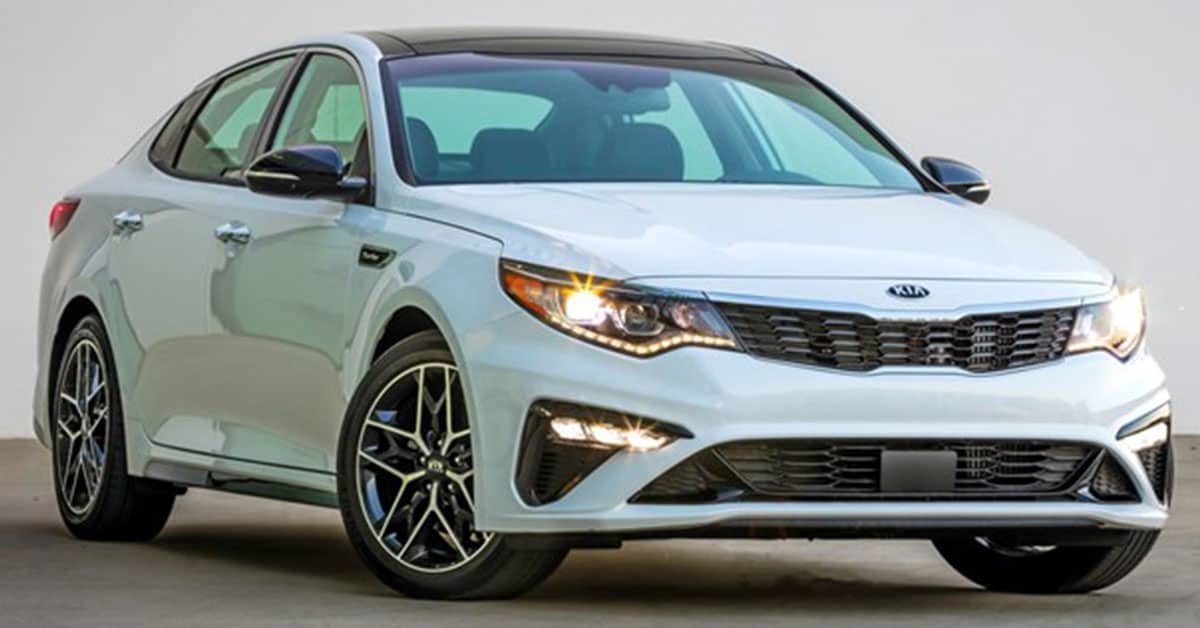 2.4 L Inline Engine184Horse
Power
1.6 L Turbo Engine178Horse
Power
2.0L Turbo Engine245Horse
Power
The 2019 Kia Optima comes available with four available powertrains including two more hybrid options. Starting off with the LX and S, it comes fitted with a 2.4-liter inline engine with 185 horsepower, 6-speed automatic transmission. Packing a punch for most buyers. Next we move to the EX, which is equipped with 1.6-liter Turbo Engine. With 178 horsepower, 195 lbs of torque and a 7-speed dual-clutch transmission. And finally with the SX you will enjoy a 2.0-liter turbo engine with 245 horsepower and a 6-speed automatic transmission.
If you prefer to choose the hybrid options you can choose between the hybrid and plug-in hybrid models. With the hybrid you get a 2.0-liter inline engine with batteries and electric motors. This puts out about 154 horsepower. The battery packs 1.6-kwh of power to help you go very short distances on battery alone. With the Plug-In option, you get a larger charger at 9.8-kwh battery and a more powerful electric motor for 202 horse power. With this much power you can drive up to 27 miles alone on just battery power.
Safety Features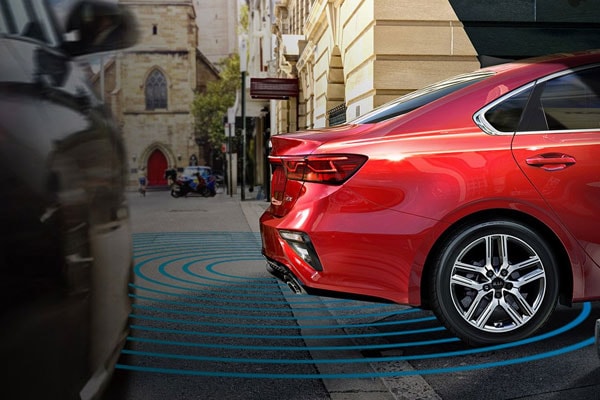 Top Rated Safety Pick
With its 4 star safety rating for crash protection, the 2019 Kia Optima is an easy pick for your next purchase! Standard with all trim levels you get forward-collision warnings with automatic emergency braking, blind-spot monitors, parking sensors, lane control and automatic high beams. With higher trim levels you can expect features such as surround-view camera system and adaptive cruise control.
What Our Customers Are Saying
My Boyfriend and I worked with Gage for almost a year to find the best car for me and he did everything he could and his very best to make sure this happened we were very happy with his help and the work he did for us. Everyone at Kia was amazing to us and we will continue to return. Love my Kia Optima thanks Gage and McGrath Kia for everything.
We bought our new Kia Optima from Dan 3 weeks ago today. I couldn't be in more love with this car! I took it up to chicago to visit my daughter and used the cruise control where I can set the distance in between me and the car in front of me and hardly used the pedals. It was awesome! Excellent gas mileage! Special thanks to Dan for a no pressure car buying experience he even called tonight to check in on us! Would recommend to my friends! In fact we were referred there as well. Thanks again McGrath Kia and Dan! Special thanks to Jessi who stayed until after 9pm to finish our documents along with Dan and to Julie who set up my rental when I had my extras put on car along with detailing!
I recently purchased a Kia Optima and had a wonderful experience! Our sales consultant- Sean Salemink was amazing! Not only was he very knowledgeable about the car and helpful he was very personable and easy to talk to. We also worked with the Kia sales manager- Raymond Liu and he too was great. Very honest and genuine. When we worked with Brent in the finance dept, he was also easy to work with and made our experience very pleasant. I would highly recommend McGrath Kia to any of my friends and family!
Shop McGrath Kia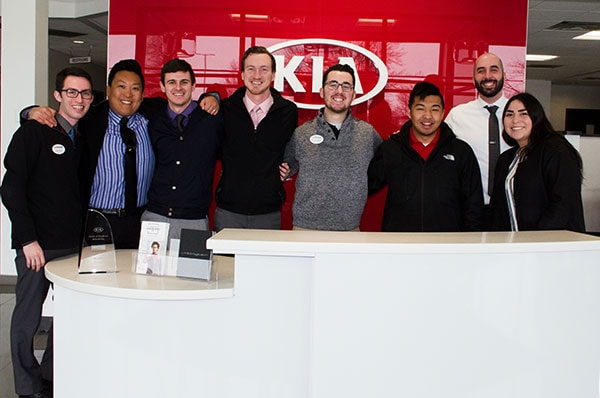 Get More with McGrath!
McGrath Kia in beautiful Hiawatha is proud to be serving Cedar Rapids, Iowa City, Waterloo, Dubuque and Davenport areas to help you find the perfect car. Offering a large selection of new and used cars, trucks and suvs, McGrath Kia is committed to helping our customers and making purchasing a vehicle a walk in the park. Come stop in for a visit today! You always Get More with McGrath!