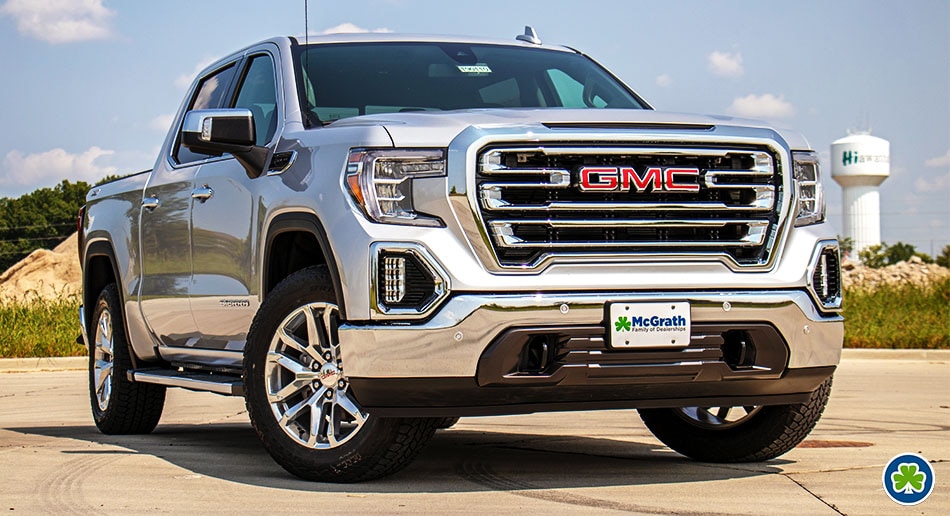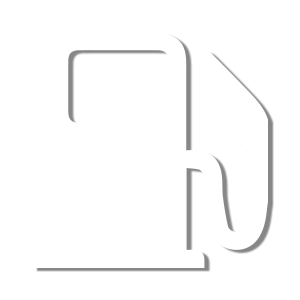 MPG
15 CITY
21 HWY
Standard
5.3L V-8
Cylinder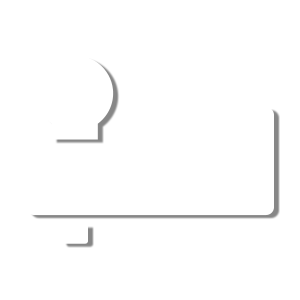 Standard
Towing Capacity of 9,400 lbs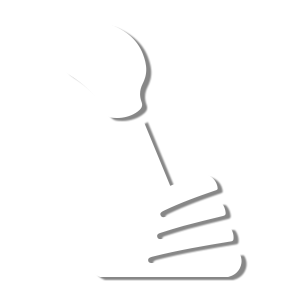 Standard
8 Speed
Automatic
2019 GMC Sierra Available in Cedar Rapids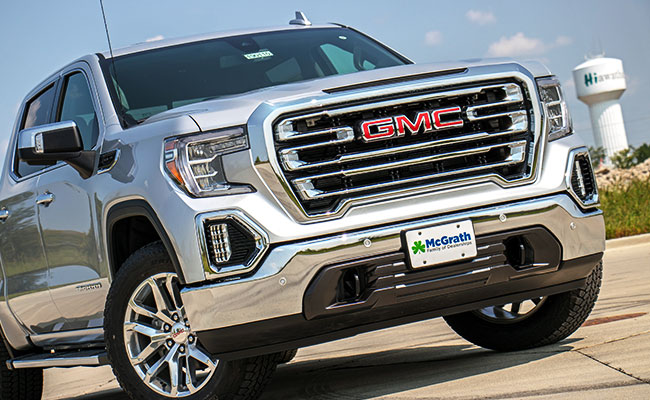 Reimagined Sierra
The 2019 GMC offers a perfect combination of functionality, power, and cutting-edge tech all within a redesigned body that gives the Sierra line a truly unique look and feel. In other words, this is the luxury pick-up that truck lovers around the country have been waiting for. Stop into your local McGrath GMC dealership today and take a test drive!
GMC Sierra First Take
Exterior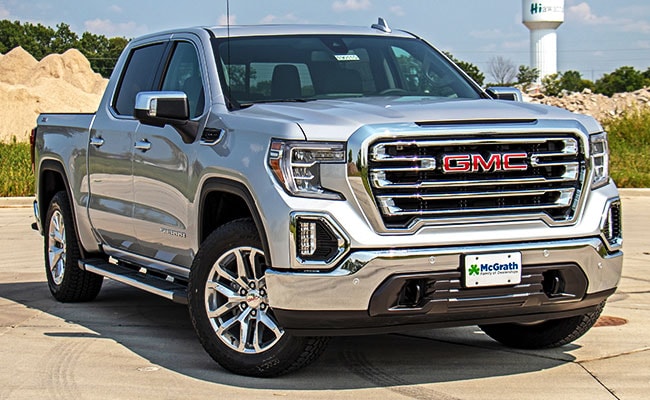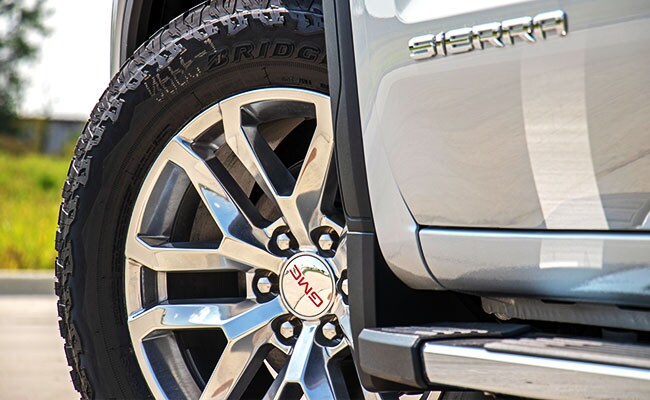 It's Clobberin' Time
With the 2019 Sierra, GMC decided to add serious muscle to create the truck's all new body style. From the wheelbase that sits 3-inches wider than its predecessor, to the taller hood and the aggressive capped chrome grille, every inch of this pick-up is designed to make an immediate impression.
But all that extra bodywork doesn't come at the expense of speed or agility, the 2019 Sierra is actually 360-pounds lighter than the previous model. That feat of engineering is down to a few smart production choices. The Sierra features aluminum paneling in the doors and hood as well as an and extremely wear-resistant new truck bed made entirely out of carbon fiber (CarbonPro) that reduces rear weight by a staggering 62 pounds. That means you can tow larger loads without worrying about handling.
As with all of GMC's late model trucks, the 2019 Sierra incorporates an advanced lighting system with the company's signature light blade style C-shaped lighting elements, and high intensity headlamps that will help you cut through even the thickest fog.
MultiPro Tailgate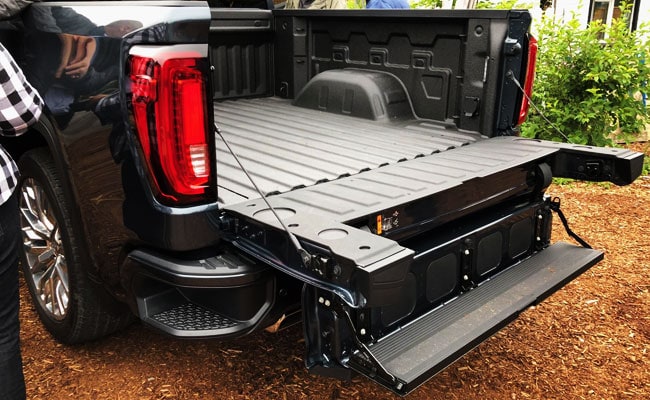 That's not the only new feature in this truck. The 2019 Sierra debuts an innovative split-folding tailgate system called the MultiPro tailgate. This technology comes to drivers after two years of research and development and the results are more than worth it. The new gate offers six unique configurations for different tasks.
You can fold it down to create a flattened bed to accommodate loads that are larger than the 5-foot-8-inch bed, you can adjust the tailgate to create an extra step for easy access, and you can even push the gate up to form a multi-tiered workbench. Whether you're going fishing or taking care of some on-the-go crafting the MultiPro will provide you with all the functionality you need.
Interior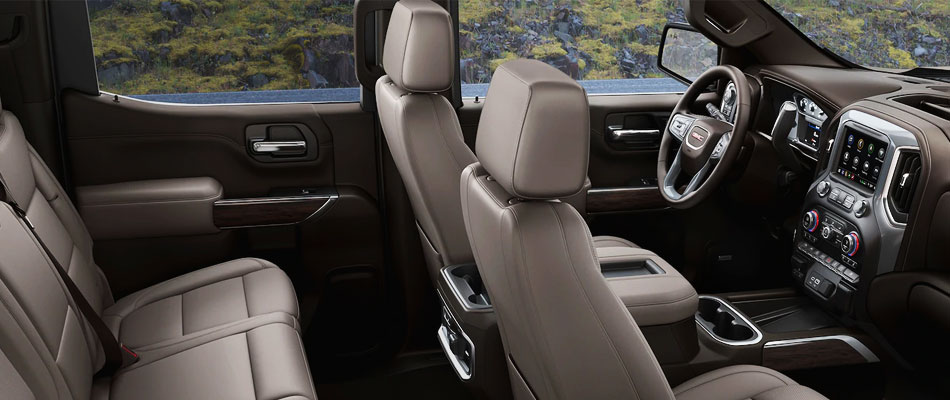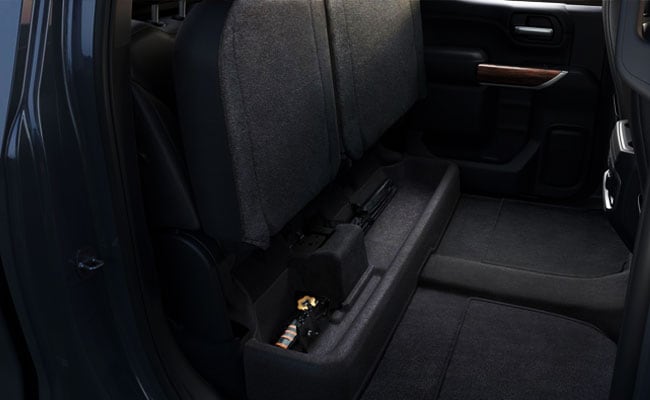 Large and Luxurious
Elevating your driving experience, the 2019 GMC Sierra has more than you can ask for. The Crew Cab offers comfortable leather seating for a more relaxing ride for everyone. The front passengers are blessed with heated seating for those chilly nights. While the Sierra has a large bed in the back, the interrior utilizes every inch of space with more hidden cargo storage under the rear seats for your personal belongings. Chrome accents stretch across interrior giving it a new and improved refined feel. Interested? Check out our 2019 Sierra inventory!
Find Your Perfect GMC Sierra!
With the largest selection, hottest offers and a fun and friendly team to guide you through the process, McGrath GMC is the only choice when it comes to shopping for a new or used GMC in Cedar Rapids! Get started now by clicking the button below and shop our online inventory!
Shop Now
Featured Tech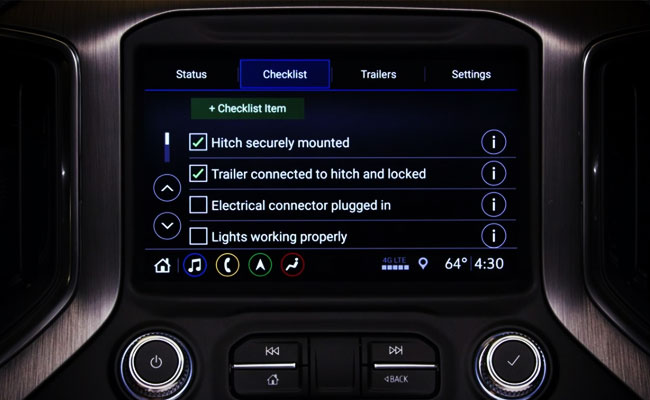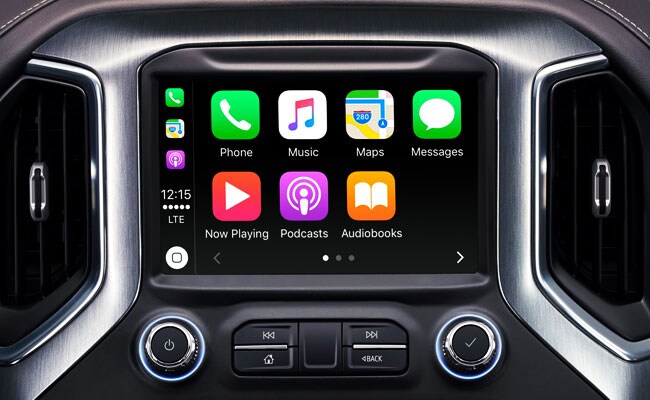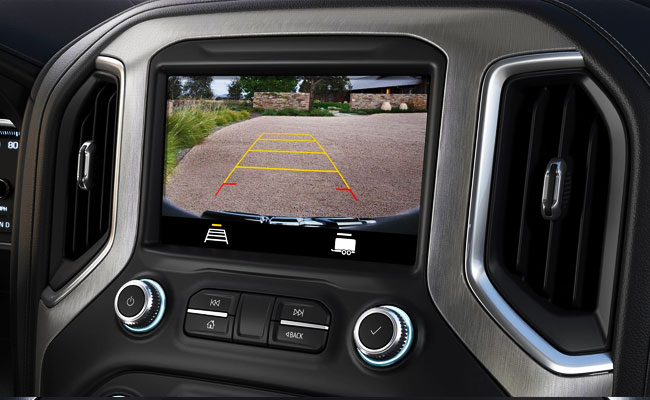 Exciting New Features
All those new aesthetic touches come packaged alongside a range of smart technology that will make your daily driving experience more convenient in a number of ways. Here's some of the most exciting new tech coming to your 2019 GMC Sierra.
Rear View Camera Mirrors - With a simple push of a button your rearview mirror transforms into a high-definition backwards facing camera that offers drivers the ability to widen, tilt, zoom and adjust brightness on everything going on behind the vehicle. This feature was specifically designed to support maneuvering with carrying heavy loads.
ProGrade Trailering System - GMC's new trailering app makes it much easier to align your truck bed with the trailer ball. The 2019 Sierra offers a variety of adjustable camera angles as well as tutorials and checklists to aid easy hitching.
The 2019 Sierra also offers an extra sensor just behind the rear license plate that can provide you feedback on tire pressure and temperature so you can take of flats long before you hit the road.
Infotainment Center - When you need an in-cabin distraction for the family, the Sierra's 8-inch center display provides all the entertainment you could need. The IntelliLink interface provides out-of-the-box compatibility with both Android Auto and Apple CarPlay alongside a bevy of handy safety features including: forward collision alerts, automatic braking, forward pedestrian braking, following distance indicators, and an intelligent headlamp control system.
New Heads Up Display - The 2019 GMC sports a much larger 3*7 inch heads up display. This smart screen provides all real-time information on speed, road speed limits amongst others as well as real-time navigation guidance.
Difference Between Denali & SLT

Is Denali or SLT the truck for you? - Either one is a great choice so don't worry about making the wrong decision.
Within the Denali Package and the SLT package there are still many varios sub-packages/ trim levels to choose from so there is variation to the answer to the question but we will try to provide a few details below that will help you out.
SLT Premium is a popular trim and will come standard with 5.3 Liter V8, 20" polished aluminum wheels (NZM) 6" rectangular chrome assist steps which will be wheel to wheel in crew cab models. SLT Premium also adds SLT Convenience package to the pickup.
SLT Premium Plus is the next trim level up in the SLT models. SLT Premium Plus Package adds SLT Convenience Package, SLT Preferred Package, Driver Alert Package I & II, 20" polished aluminum wheels, trailer tire pressure monitor system and a spray in bedliner.
So if you add either of those packages to your SLT you will begin to get many of the features included in the Denali. There are items that set the Denali apart though, especially if you choose the Denali Ultimate Package which is the most common choice for our Sierra buyers around Cedar Rapids and Iowa City.
Stand Out Features of Denali Ultimate
Adaptive Ride Control (formerly Magnetic Ride Control)
22" Polished Aluminum Denali Wheels
Multi Pro Power Steps
6.2l V8 with 10 Speed Automatic Transmission
Denali Grill & Badging plus Denali Leather Trim
Contact Us Today!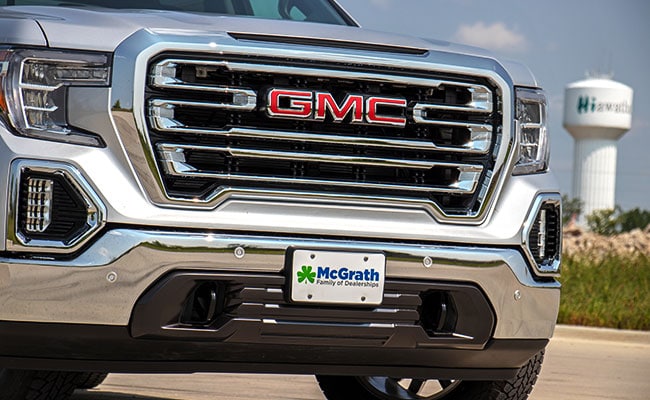 Performance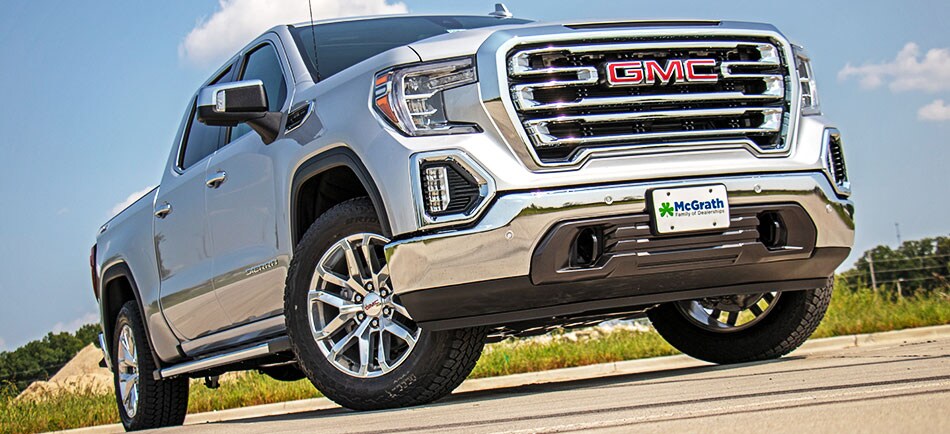 The 2019 GMC Sierra isn't just for show. The truck features a completely reworked 6.2L V-8 engine that offers a satisfying 460 lbs of torque. The new cylinder deactivation system also allows you to use anywhere from 2 to 7 cylinders in over 17 different combinations so that you can manage your fuel more efficiently than ever before. At its most efficient the truck will hit 15 mpg on city roads and 21 mpg on highways.
The truck's 10-speed transmission also ensures that you have power on tap whenever you need it. In terms of customization you'll get access to a couple of different driving modes including Sport, Tow and Tour options.
This 4*4 truck won't disappoint off-roader either. Apart from 4wd, the vehicle comes trail-ready with 18-inch wheels and all-terrain tires. All that extra torque will also help you blow through almost any type of track with little effort. The basic model 4x4 truck can haul up to 9,300 pounds while the fully loaded 2019 Sierra can lift up to 12,000.
What Our Customers Are Saying
I was searching for a specific vehicle on-line and found it at McGrath. Since I had to drive for 4 hours to get the car, I had a lot of questions before I was going to make a trip or purchase. The people at McGrath answered all my questions and did whatever it took to make me comfortable about the car before I bought. I'm very pleased with the McGrath people, especially Jim Ottile and Lindsay Butterfield. They took care of my concerns and questions and were easy to do business with. Bottom line is that I took a chance buying a vehicle on-line and 4 hours away. They treated me right and would not hesitate to buy from them again. Next time I'm looking for a car I will look at McGrath again. Thanks everybody!
I have nothing but great things to say about this dealership, Dick Lynch did a great job getting me a good deal and working through the details. My truck is getting running boards on it and also switching my bed cover for me. They all worked together to complete the deal. Not one complaint about the extreme cold as they were cleaning off vehicles for test drives. I would highly recommend McGrath to anyone for your next car or even the service department for maintenance on your existing vehicle.